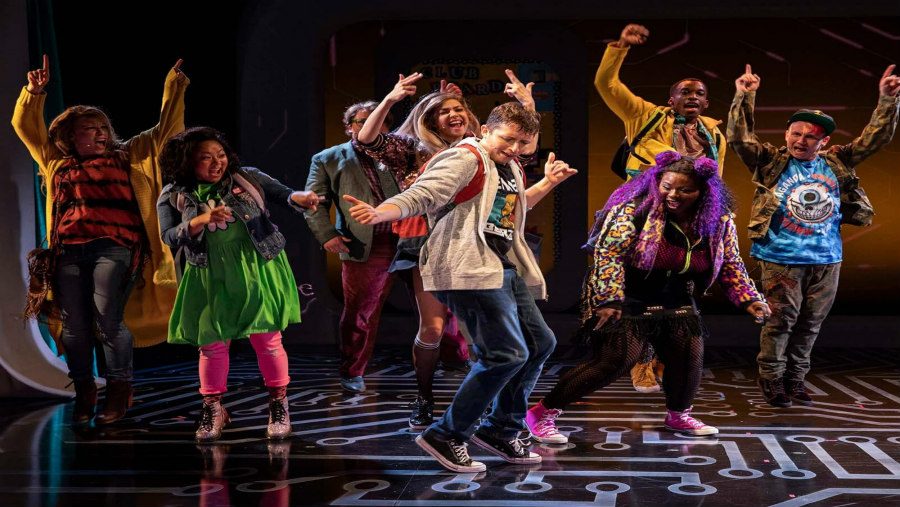 I will always be the first to admit that I was never, ever the cool kid in school. I was somewhere between the well-known-but-not-popular kids and the geeks, thanks to my obsession with Broadway. Thankfully I went to a school that was accepting of everyone, where literally no one was made fun of and no fights broke out. This is not the typical experience for most high schoolers, though; most high schoolers' reality is probably a lot more like Jeremy Heere's in Joe Iconis' Be More Chill, which is running at The Signature Center, directed by Stephan Brackett and produced by Jennifer Tepper.
Jeremy (Will Roland) is a high school freshman who would rather sit in his room playing video games with his best friend Michael (George Salazar) than go to the cool kids party. But when the school bully, Rich Goranski (Gerard Canonico), corners him in the bathroom telling him how he can be cool he leaps at the chance. This is not the typical change of clothes, get new friends routine though. Jeremy goes to the Payless Shoe store in the mall to buy a mini computer in pill form from a shady salesman. He swallows the pill and activates it with Mountain Dew, and the pill flows through his bloodstream where it lodges itself in his brain and the computer creates a Squip (Jason Tam), who tells Jeremy what to say, do, and think to be one of the cool kids. Before he knows it, Jeremy is hooking up with the prettiest girls in school, going to their parties, and leaving Michael in the dust. But he still doesn't have his dream girl Christine (Stephanie Hsu). And when Rich somehow winds up in the hospital because of his own Squip, Jeremy begins to realize that maybe this whole routine isn't what it's cracked up to be.
I knew a little bit about Be More Chill because of its run in New Jersey and how that amassed a strong internet following, one strong enough to put the show Off-Broadway. What I didn't know is I would see myself throughout the whole show. When Jeremy couldn't think of something to say to Christine, I remembered my own awkward encounters with my crushes in high school. When Michael was left sitting in the bathroom by himself at a party, it reminded me how I lost certain friends when we did different activities. And when Jeremy realized he didn't like who he was becoming with the Squip, I could think of many times where I was pretending to be someone else so I could be one of the cool kids for once.
Not only was the entire story line wonderful, the cast was literally born to play these roles. I have seen George Salazar in two other roles before this, but I saw his true acting skills here, and was even more impressed by him. Stephanie Hsu, fresh off the stage of Spongebob Squarepants the Musical brought her quirky sense of humor to Christine instead of making her the generic cool girl. And Will Roland as Jeremy Heere is such a lovable geek, you can't help but see him win!
I've seen quite a few shows in the last year or so, but this is by far my favorite. Its vulnerability is something I haven't seen in any other productions, and is a testament to Joe Iconis as a writer. This is precisely the show that the theatre community needs right now, and with the young generation taking it on as their own, there is every reason to believe that it will continue to impact theater-goers for a very long time.