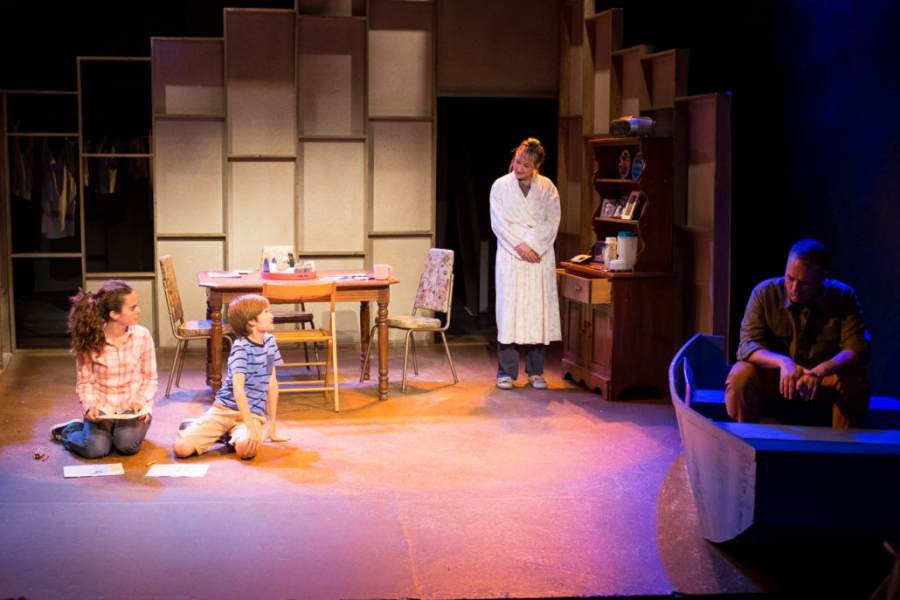 In Petie, a new play written by and starring Lori Fischer and directed by Martha Banta, the dark mistakes that haunt us never leave the downstage corner of our minds. This well-performed, thoughtful drama about a family haunted by a tragedy explores the intricacies of intimacy and the difficulty of moving on.
Bonnie and her daughter Jesse live in Red Bank, Tennessee, where Jesse works at the local discount department store and Bonnie never leaves the house. Their relationship is strained, and we quickly learn why: a little boy named Petie died 10 years ago, and the anniversary of his death is on the horizon. Over the course of the play, the details of their relationship and history are revealed, and both women must confront what they hide from each other and what they choose to forget. Daddy, who we learn has mental disabilities and is somehow responsible for the death, spends the entirety of the play in a boat downstage left, and Petie himself, actually played by a little boy, reappears throughout the play in Bonnie's terrorizing imagination.
Bonnie is fragile like a vintage collectible plate, while Jesse has numbed herself from the pain of it all through cutting and the hard hat of maturity. The cutting scenes create unexpected tension, which is emblematic of the piece — frequently, and all of a sudden, Petie performs simple yet interesting stage moments. At one such moment, Daddy, the object of so much anxiety, drinks the entirety of a jug of lemonade in one gulp. At another, to suggest Bonnie reliving the seminal moment of her regrets, Petie and Daddy perform the same text and movement as Bonnie struggles within it, with new pain and confusion.
Playwright Lori Fischer, as Bonnie, is able to connect with the emotional gravity of the character, and it's impressive. Bonnie is a Medea, in many ways: she has lost a child, she wallows in her own psychosis. And if Medea is the character of a lifetime, Fischer performs Bonnie with a like intensity. Fischer's vocal, at times guttural, performance quality endows feeling and a deep connection to the emotion of the work. Her monologue work in particular is worth keeping your eye on. Many performances throughout the piece are worthwhile: Judson Jones' work as the mentally disabled bible thumper Daddy is impressive, and Arielle Goldman, as Jesse, simply but effectively creates tension.
The characters are able to express themselves because the work, implicitly concerned with loneliness, with having no one to talk to, repeatedly places the characters in the oh-so-very-theater-position of finding themselves in that moment where they can open themselves and their heart. Bonnie is always gushing to sales reps on the phone, a nice vehicle to allow her to speak, but also an effective vehicle to express how she can't even be seen when she speaks freely. Jesse, on the other hand, has her best friend, KM, who is being physically and emotionally abused by her new boyfriend, and KM's plight seems to empower Jesse to face her history. Ultimately, it is a lesson of misdirection, a comment that says sometimes unexpected forces are what our souls need to be realized. This does not feel heavy handed whatsoever, and in fact seeps into the environment, because the environment is seeped in an evangelical spirituality, and it is a place, the Bible Belt in Tennessee, that seems to be at once a path toward salvation and source of distress for these characters. As much as Petie is about this tragic situation, it is about how these people in this particular place deal with this tragic situation, and it opens the work to new avenues of empathy. For a play with this many virtues, that's a great thing.