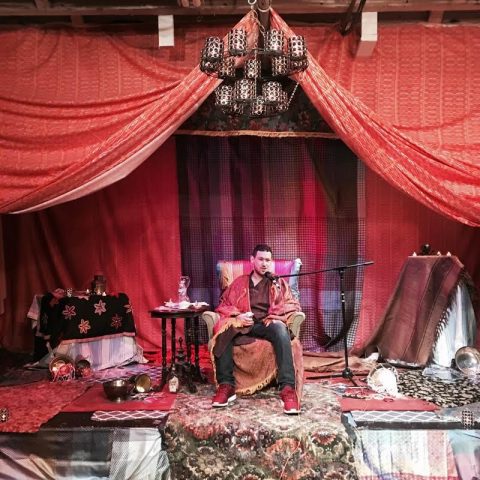 Welcome to Sam's Tea Shack, a bazaar to house Sam Soghor's comedy routine/heart break -- and a theatrical experience straight out of 1980s New York City. The work is a rumbling therapy session that covers religion and culture and Sam's young son and drugs and a shitload of old hangups. Make no mistake, Sam will have his say, but feel free to give him hell for it.
At The Tank's awesome new space — the company now has two theaters to support some of the most fine emerging performers out there — Soghor has created a charged yet chilled-out performance matrix; a space where anything can happen so something genuine is possible, but also a space so goofy you never find yourself holding your breath and holding back. It's a delicate balance that takes sensitive yet passionate theater minds to arrive at, and the fact that Sam's Tea Shack works is clearly thanks to co-writers Ben Gassman and Soghor.
Now, you may feel mad awkward, but that's Sam's comedy style. He employs (literally) a panel to heckle him and he gets so worked up about it, and that's funny too. His style is freewheeling, rather acerbic, particularly to people that are famous he knew as a kid (always punch up), all with a too real culturally Jewish thing going on. The piece is composed of comedic monologues, his own funny opines, and back-and-forth with the house. You should come to Sam's Tea Shack READY TO TALK BACK. Sam may get pissed and pissy, but that's OK, that's part of it.
Don't let me misguide you: Sam has some things he wants to air out. If you were to structurally analyze Sam's Tea House, you'd have a therapy session with a neurotic Jew: awesome! There is even an hour glass so when the hour is up we can all see it (not that Sam cares, he'll happily talk through the end of the session). It is sad, though, how seemingly sad Sam is. Of course, we separate the actual Sam and the performing version of himself, but this dude really needs to move on from his high school shit! You can't be around a genuinely charming dude who thinks he's a failure for over an hour and not feel a little down yourself. And the house, as his collective shrink, really can't help him.
Well, it does take time to find the right analyst — Sam mentions his recently died, so maybe the piece is a masterful, convoluted way to find a new one. See Sam's Tea Shack because it is funny and because it is a unique and tight theater experience. And be ready to dish it out, that'll really make it good fun.