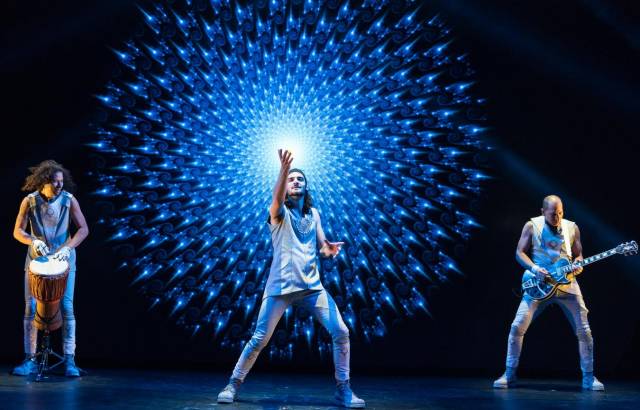 Watching Luke Comer's multimedia rock odyssey The Portal is kind of like being on someone else's acid trip, but you wish you were also on drugs. It takes you on one man's spiritual journey through the desert where he is followed at various times by a shamanistic mystery woman (Zarah Mahler), a shrouded and hooded figure meant to represent Death, and a figure with a TV projecting commercials for a head. To help tell the story, a couple of dancers (Marija Juliette Abney and Jessica Aronoff) and a band of three (frontman Billy Lewis Jr., guitarist Paul Casanova, and percussionist Gilly Gonzalez) accompany a series of onstage screens that project the strangest film blasting corporate office culture you'll ever see.
The film begins with the man, Dante (Christopher Soren Kelly), typing at a desk wearing a suit in a big corporate office. His corporate lifestyle haunts him as he trades his suit for a tunic and heads to the desert searching for...something. It's unclear if it's supposed to be his inner child or love. Perhaps both. At one point he fights Death. There is also some vague religious imagery.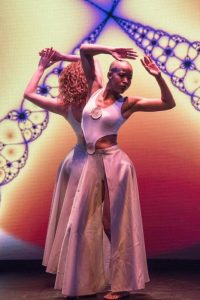 Interspersed throughout Dante's wanderings are kaleidoscopic, fractal images projected on four screens of varying shapes and sizes that go well with the spacey, New Age rock music. However, Lewis Jr.'s powerful voice is obscured by the echoey quality of the microphone, making the lyrics barely discernible. There are apparently 16 musical numbers (most of which are composed by Tierro Lee) but they all sort of blend into each other. There is some poetry spoken at different points but don't expect it to make a whole lot of sense.
While the odyssey's narrative is esoteric, the cinematography is commendable. The screens show some beautiful landscapes like a sparkling blue river in a lush green forest and the red desert vista that looks a lot like Arches National Park.
The dancers are wonderful (choreography by Jessica Chen) with their undulating, slightly African-style dance moves. The costumes (Liene Dobraja) are mostly of the white cultish variety, but the dancers' costumes are really pretty and flowing, and go well with their movements.
The message of The Portal appears to be a condemnation of corporate America and greed. It also highlights the importance of finding love, reconnecting with nature, and finding your inner child. While this message is nice, the execution is, frankly, puzzling. The disconnect between the stage and the screen performers is a wide gulf that cannot be bridged by fractals.