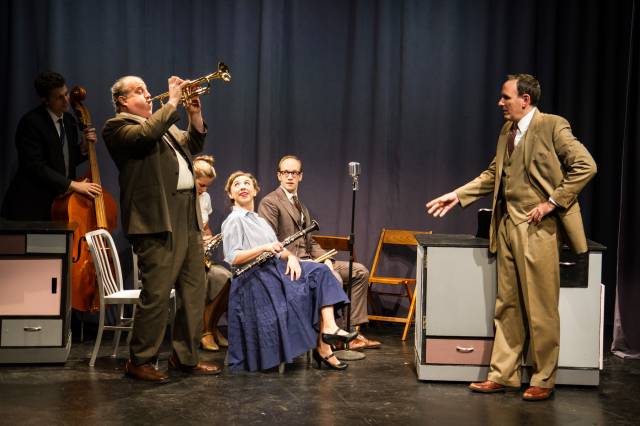 A man stands alone on stage under a single light. He is speaking fast, wringing his hands, his eyes unfocused, head twitching excitedly. He is talking about the future of music, how one day, what a composer thinks up will automatically be transmitted to the brains of the audience, without the need of instruments. His name is Harry Warnow, later known as Raymond Scott, the pioneering band leader of 1950s television show Your Hit Parade and composer who eventually sold his music to Warner Bros.
One of Scott's most famous tunes, "Powerhouse," provides the title to an impressive new physical theatre performance by Sinking Ship Productions.  Using ingenious puppetry designed by The Puppet Kitchen, incredible sound and lighting design (Sean Brennan and Nicholas Houfek), and amazingly versatile props and set design (Claire Kavanah and Carolyn Mraz), the Sinking Ship ensemble, directed by Jon Levin, tell the story of Scott's rise from the leader of the Raymond Scott Quintette to an innovator of electronic music. The play, written by Josh Luxenberg and devised by the ensemble, is both a testament to Scott's genius and a resurrection of this relatively obscure figure of pop culture.
As Scott, Erik Lochtefeld provides an immersive characterization of the man who would go on to redefine swing music in the 1930s, marry three times, and give the world a soundtrack to dozens of beloved Looney Tunes cartoons. Lochtefeld's performance is fantastic, as he humanizes a somewhat alienating personality. The trio of ladies in Scott's life ground him, including his first wife Pearl (Jessica Frey), third wife Mitzi (Clare McNulty), and Dorothy Collins (Hanley Smith), the woman he groomed from age 14 to become a famous singer. Collins would go on to appear with Scott on Your Hit Parade.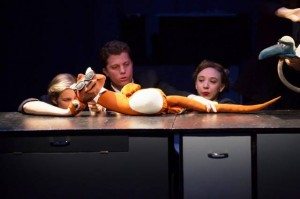 Interwoven throughout the drama of Scott's life are a series of delightful scenes with the three Hollywood animators who create Kalamity Kartoons, the stand-in for Looney Tunes. Tyler Bunch, Spencer Lott and Eric Wright play these scenes just like the cartoons themselves: joyful, terribly clever, and with a little wink. Wright's voice work is especially memorable as he supplies the voices for the two mischievous stars of Kalamity Kartoons, Otter and Booby. They are like the counterparts to Bugs Bunny and Elmer Fudd, or the Road Runner and Wile E. Coyote. One is always trying to pull one over the other, with the intellect being slightly skewed to one side.
The entire ensemble is extremely talented, with the actors doing double and triple duty, weaving around each other seamlessly, giving voices and hands to puppets, popping up as random characters here and there, and simply embodying the atmosphere of the first half of the twentieth century.  But ultimately, it comes down to one man: Raymond Scott. A man who embodied music, who dreamed of the future, who envisioned music everywhere -- like light, in the very air we breathe.
---
Powerhouse, written by Josh Luxenberg and directed by Jon Levin, is showing at The New Ohio Theatre through November 23. The cast includes Erik Lochtefeld, Tyler Bunch, Jessica Frey, Spencer Lott, Clare McNulty, Hanley Smith and Eric Wright. The creative team includes The Puppet Kitchen (Puppet Design), Nicholas Houfek (Lighting Design), Sean Brennan (Sound Design), Erin Schultz (Costume Design), Claire Kavanah (Props Design) and Carolyn Mraz (Desk Design). The production team includes Dina Vovsi (Producer) and Carly Levin (Production Stage Manager). For tickets and information, visit https://www.powerhouse-theplay.com/