Review: PUFFS or: Seven Increasingly Eventful Years at a Certain School of Magic & Magic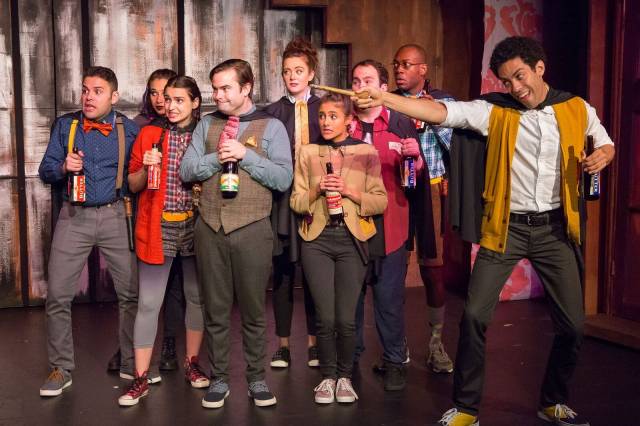 Have you ever wondered about all the minor characters in the Harry Potter series? Where do they come from? What are their abilities? Why is everyone so focused on the Gryffindors? PUFFS or: Seven Increasingly Eventful Years at a Certain School of Magic & Magic, written by Matt Cox and directed by Kristin McCarthy Parker, tells the story of that other wizarding house, the Puffs (a version of Hufflepuff). The play squeezes all seven years/books/movies into an uproarious parody that largely makes fun of Harry Potter and his friends, the teachers who bend over backwards for him, and the fact that ridiculously dangerous things keep happening to the students.
We first meet the group of Puffs that become the protagonists of our story when they arrive for their first year at a certain school of magic and magic, which just happens to be the same first year as a certain famous boy wizard with a lightning scar on his forehead. Wayne (Zac Moon), Megan (Julie Ann Earls), and Oliver (Langston Belton) mirror the Harry-Hermione-Ron triangle with a few notable differences, such as Megan's desire to be a part of the Snakes (Slytherin) and hope that her mother, who is locked up for being a supporter of "the one they can't talk about," will break out of Wiz-Priz (Azkaban) to come take her away.
With golden boy Cedric Diggory (James Fouhey) as their only claim to fame (and fans all know what happens to him), the Puffs are desperate to not be the perennial losers of Hogwarts (their hilarious motto, "Third or nothing!" which they repeat throughout the show, is a reference to their constantly coming in last for the House Cup). We follow them as they fail at various wizarding classes (all but Herbology and--for "Mug-born" math genius Oliver--Mug Studies), lose scores of points for their house, and watch Harry (Madeleine Bundy) constantly save the school. With friendliness being their only virtue, the Puffs struggle to come out on top.
While all this is going on, Wayne strives to become the hero and make a name for himself. However, the bitterness of his failures as a wizard, and the notorious achievements of Harry, keep weighing on him. He can barely ask out dim-witted Leanne (Andy Miller). He needs Cedric's help to summon a book. Nobody can remember his name. But the loyalty of his friends becomes his greatest attribute and, when it comes down to it, the Puffs help bolster Wayne and each other. This ragtag group of rejects ends up coming through in the end when it really counts.
PUFFS, so densely packed with Potter references, is a must-see for any fan of the popular wizard series. It's laugh-out-loud funny, whip-smart, and a lot of fun to watch. While the Puffs as a house may never come out on top, PUFFS the play just might.