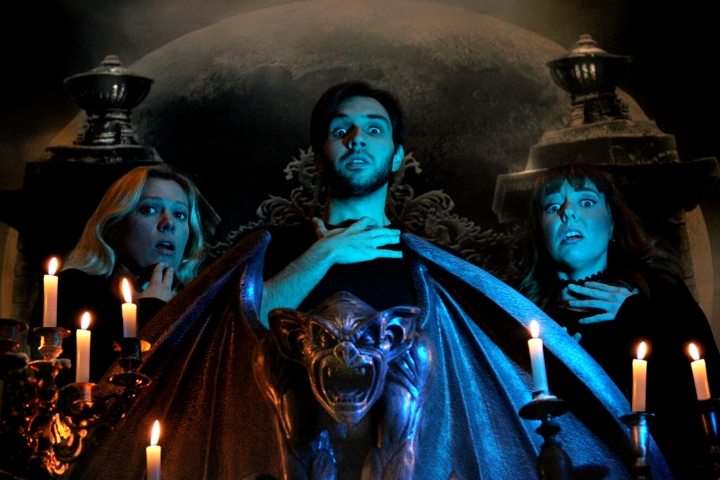 Last year, RADIOTHEATRE sold out its Edgar Allan Poe Festival, and this year, their celebration of the master of horror is back. Inspired by old-time radio shows and the Pulp Fiction Era, RADIOTHEATRE reinvents storytelling using lighting, sound, special effects, and a cast of enthused storytellers. As such, its Edgar Allan Poe Festival pays homage to Poe even as it modernizes his work. If you're a fan of Gothic horror, it's a show you won't want to miss.
Written and directed by Dan Bianchi (who also designed the show's sound and music), RADIOTHEATRE's 2nd annual Edgar Allan Poe Festival presents several of Poe's most celebrated horror stories in a reader's theater type format. The repertoire also includes stories from some of Poe's contemporaries and disciples: writers like Arthur Conan Doyle, Bram Stoker, H. P. Lovecraft, and W. W. Jacobs. These chilling tales are narrated and acted by a dynamic group of storytellers that includes Frank Zilinyi, R. Patrick Alberty, Alejandro Cardozo, Annemarie Hagenaars, and Caitlin Boyle. Wes Shippee acts as the Festival's sound engineer.
The venue couldn't be more perfect (unless maybe it was a cemetery or a crypt, but that would be challenging to pull off with RADIOTHEATRE's sound and lighting system). St. John's Lutheran Church in Greenwich Village hosts the Edgar Allan Poe Festival, and its history as the eighth oldest church in New York City lends the show credibility and enhances the overall phantasmagoria.
The macabre mood deepens when, before the show officially starts, the emcee announces that many of the church's past residents still haven't left. He says it's not a guarantee you'll see one, but past audiences have noticed spectral figures watching the show from the balconies. It's nothing to worry about, he assures everyone, and if you see something odd in the balcony, please don't interrupt the show.
Since the Festival performs a different set of stories every night, it's worth looking at RADIOTHEATRE's website before deciding which performance to attend. As a long-time fan of Poe, I especially enjoyed RADIOTHEATRE's take on "The Masque of the Red Death," which was deliciously creepy and seamlessly executed. Similarly, their performance of Arthur Conan Doyle's short story "How It Happened" was fast-paced and engaging.
RADIOTHEATRE's Poe Festival doesn't just retell old scary stories, though. I found it very interesting how the show altered some details of these classic tales to make them more relevant to a modern, NYC audience. In most cases, these aren't massive changes; they're just small details like moving the setting to New York City, or playing around with the frame story. I thought this was especially effective with "The Oval Portrait" and "The Monkey's Paw."
While I don't know about the other audience members, I for one was completely enthralled by the show – which is a tribute both to the original authors and to the Festival's cast and creative team. There's really nothing like a good evening of old-fashioned Gothic horror in a haunted church in the heart of Greenwich Village.