It's been 42 years since the musical adaptation of A Raisin in the Sun was last produced in New York City, so here's 42 reasons why the Astoria Performing Arts Center revival is essential.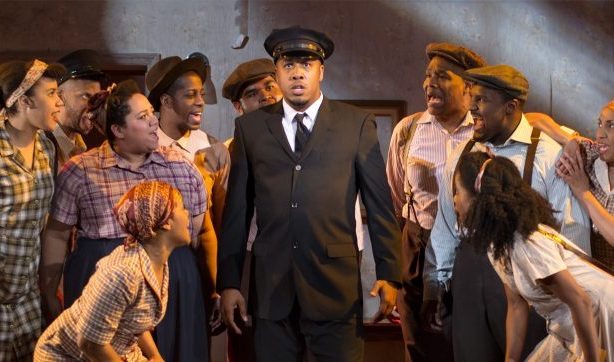 In 1974, Raisin, the musical version of Lorraine Hansberry's famous A Raisin in the Sun, won the Tony Award for Best Musical and Best Actress in a Musical for Virginia Capers. After an almost three year run on Broadway, the musical closed and was mysteriously never produced in New York again until the exemplary production currently at the Astoria Performing Arts Center. To commemorate the four decades it's been gone from NY stages, and perhaps even slightly shame producers who have no problem reviving less exciting works every other year, here are 42 reasons why this production needs to be seen:
To rediscover, or discover, Judd Woldin's infectious score which combined jazz, gospel and 70s' pop to great effect.
The APAC production features wonderful musical direction by Darius Smith who leads a small band that makes the intimate venue feel like a jazz club.
Dev Bondarin's thrilling direction which takes advantage of the rhythm in famous lines from Hansberry's play and Woldin's score.
Bondarin's notes in the program.
The second act opening, "He Come Down This Morning", which makes the most out of the fact that APAC is located inside a church.
Few American musicals (or American fiction for that matter) touch on class issues in the sensitive way in which Raisin does. It's a show that condemns American lack of consciousness when it comes to acknowledging class distinction.
Few American musicals deal with race in the delicate but powerful way in which Raisin does.
It's a musical that slightly improves on the original. While Hansberry's play is rightfully celebrated, there is something primal that comes through when we hear the characters sing about their plight, the music truly communicates with us at a soul level.
Tamrin Goldberg's inspired choreography which goes beyond dance set pieces and influences the way in which actors move across the stage during non-musical moments too.
The bus in "Runnin' To Meet the Man".
The audience reaction to the darkness of "Not Anymore".
Lawrence E. Moten III's inspired set design, which efficiently conveys the time and setting, while transforming into several locations (it also ingenuously harbors the orchestra).
Chinua B. Payne's spot on line delivery and comedic timing as Travis Younger.
The bittersweet look in Brandi Knox's eyes when as Ruth, she sings "Whose Little Angry Man" to little Travis. Watching it on Mother's Day weekend proved particularly heart-wrenching.
Jeannipher Pacheco's costume design which takes advantage of 1950s textures, but surprisingly also recalls contemporary fashion.
The traditional robes Pacheco uses for the "African Dance" number.
"African Dance" making a case for why representation onstage matters.
Warren Nolan, Jr.'s lack of vanity in playing Walter Lee's hardest moments. The actor is unafraid to show Walter Lee's fear of emasculation and his destructive pride.
Warren Nolan, Jr.'s walk, it's as if he's carrying the weight of the world.
Warren Nolan, Jr.'s smile when he gives Travis 50 cents.
The love scenes between Walter Lee and Ruth. We have been robbed of black bodies embracing onstage for far too long.
The powerful first act finale.
The musical's "waiting for the check" theme which becomes filled with dread considering the current state of the country.
Not only does Raisin openly discuss class, it also discusses money which most likely makes conservative audience members squirm.
Ebony Marshall-Oliver as Lena Younger singing "A Whole Lotta Sunlight" to a little plant. She knows there is more than meets the eye.
Ebony Marshall-Oliver singing "Measure the Valleys" near the end of the show.
Ebony Marshall-Oliver playing someone beyond her years and infusing her with timeless wisdom.
Ebony Marshall-Oliver's expression when she gets the check.
Ebony Marshall-Oliver's smile in the last scene.
Ebony Marshall-Oliver speaking to "Big Walter", he's not there, but she makes us see!
Ebony Marshall-Oliver in general. Her performance is a thing of beauty, she unwraps Lena's qualities delicately and is unafraid to make her silences count even more than her words.
Marcie Henderson stealing every scene as Mrs. Johnson.
Cartreze Tucker charming the pants off everyone as Joseph Asagai.
Cartreze Tucker singing "Alaiyo" and then revealing what the word means. #swoon
Sarita Amani Nash infusing Beneatha with modern confidence.
Beneatha's pants and Rosie the Riveter demeanor.
The chemistry between Tucker and Nash.
The casting for the Younger family. These actors seem to have known each other forever.
The seamless way in which ensemble members adjust to playing everything from jazz club patrons to churchgoers.
APAC's overall commitment to quality, their musical productions in recent years have been exquisite.
APAC's commitment to rescuing lesser known works also puts them on a league of their own. What might they do next?
The musical examining dreams: we all dream, but are we all allowed to? This is an especially important question to ask under the oppressiveness of the current administration. Asking ourselves if the American Dream is an equal opportunity dream makes Raisin an absolutely necessary musical.