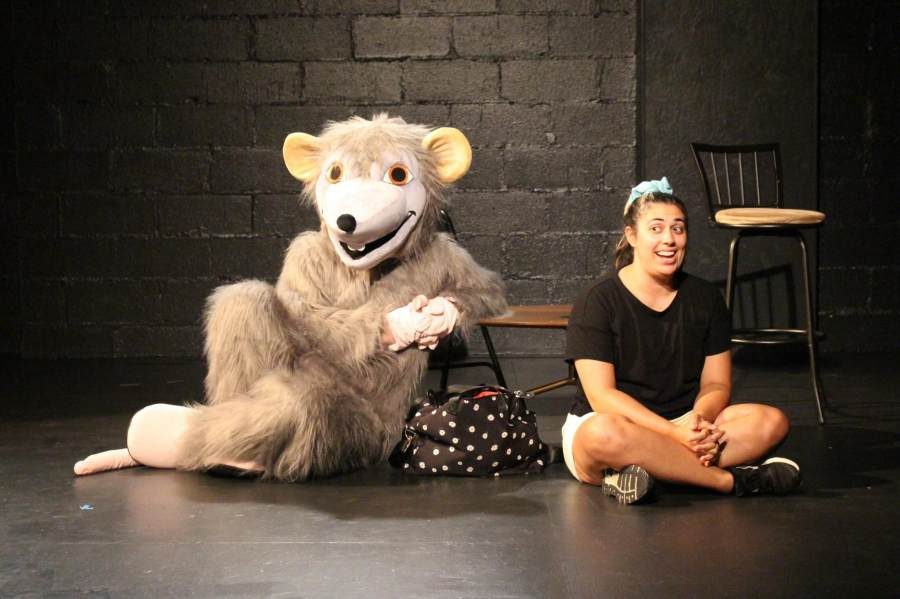 A struggling amusement park, a tight-fisted boss, and four beaten-down employees. That's where Alexander Perez's dark comedy Randy's Dandy Coaster Castle begins, and while the premise may not sound like a lot of fun, it's surprisingly enjoyable. Directed by Toney Brown at IRT Theater, the writing is entertaining, the actors engaging, and the comedy delightfully quirky. Each character has their own personality, quirks, and shortcomings, which, along with smart, playful dialogue, keeps the action engaging. The amusement park's rundown employees each get their own arc, and where they end up is a long way from where they started.
Luke Bond is especially funny as a long-time employee who suddenly discovers his purpose in life when he's asked to become the park's mascot Cuddly Kyle. That means dressing in a dirty, rather terrifying rat costume (think Chuck E. Cheese but hairier), but after realizing that people treat him differently when he's in costume, and that he has the opportunity to create a character, he becomes so invested that he turns down the chance to play a mascot at the nearby Six Flags: Randy's competition. There's a great scene when he uses his Kyle persona to comfort a fellow employee after her traumatic day.
It's also funny when the newbie (played by Paula Aliya) insists she can move the syrup boxes by herself, only to get covered in syrup 10 minutes before opening time. Further mishaps, attitudes, power struggles, changing dynamics, and larger life issues threaten to bring the park crashing down around everyone's ears, but somehow the employees pull together and Randy's Dandy Coaster Castle manages to limp on for another day.
Of course, it's not all laughter and sunshine. Perez uses comedy as a medium to address topics like wage labor, HR, the detrimental effects of a draining job, the challenges faced by Cuban immigrants, and the divide between generations. If that seems like a lot to pack into one play, it's laced in well enough that it never feels like we're getting hit over the head with anything. While it certainly invites discussion and sympathy for its characters, the play is entertaining first and foremost. That is, until the final few scenes, which rev up the play's emotional weight just in time for a heavy-hitting finale.
As a piece of theatre, Randy's Dandy Coaster Castle is dexterous and relatable. Anyone who's ever worked a stressful job at a fair, camp, or amusement park will probably find themselves laughing knowingly, as will anyone who's ever had a job they felt was slowly killing them. Tedious and frustrating as it is at the time, such situations yield rich comic material, and there's cathartic enjoyment in laughing about them with strangers. But unlike a vampiric job with little to no work-life balance, Randy's Dandy Coaster Castle is anything but tedious. Instead, it's thoroughly fun and thought-provoking.