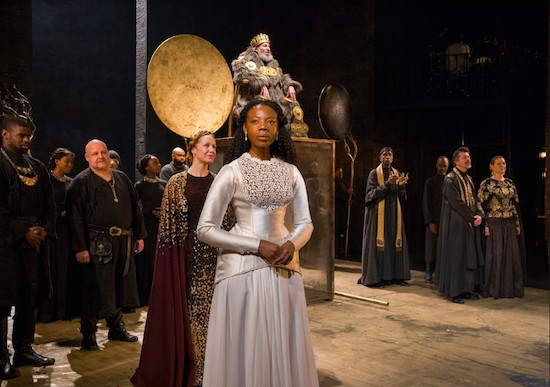 What strikes about the Royal Shakespeare Company's production of King Lear now running at the Brooklyn Academy of Music, isn't necessarily the power of Antony Sher's performance as the mad royal of the title (more on him to come), but its undeniable parallels to the times we're living in, where we see the young encounter early perishment due to the arrogance of the old. When Lear first appears onstage, carried by servants as he sits atop a crystal box, we might as well be seeing a representation of the hedonistic President of the United States, all excessive opulence and golden rims, without the moral and intellectual weight to justify the fanfare.
As Lear proceeds to divide his kingdom amongst his three daughters, something else becomes evident, director Gregory Doran isn't skimming on the racial allegories. While the king's eldest daughters are played by white women, Nya Gwynne and Kelly Williams as Goneril and Regan respectively, both splendid in their portrayals of calculating offspring, the young Cordelia is played by Mimi Ndiweni who is of Zimbabwean descent. One almost wants to jump onstage to prevent Lear from making the greatest mistake of his life, as he decides that due to Cordelia's lack of overwhelming praise, she deserves to be stripped of her inheritance and sent into exile. If the 2016 election showed us something is how desperately black women have been trying to rescue us from the selfishness of elderly white men, and when Lear condemns Cordelia, it's impossible not to be reminded of our society today. Doran's production isn't blind-casting, as much as it is casting with intent.
And so, the tragedy of the play is that Lear dooms himself from the opening scene, falling into a trap of his own making, that had him deem that sycophants and faux loyalists were more important than subdued critics, and as we see him descend into madness we can't always muster the empathy he claims to elicit. The power of Sher's performance is that he does in fact make us pity the old man, who in the play's most iconic scene, set during a storm, seems to trade places with his Fool (a superb Graham Turner) and realize the toll of his arrogance will have repercussions for generations to come.
When Cordelia reappears onstage, drenched in golden light commanding the French Army, a combination of Joan of Arc and Beyoncé in one of Niki Turner's outstanding costumes, we'd cheer, if it weren't for the fact that we know where this is going, and that it doesn't bode well for anyone. Perhaps the mark of a great Shakespearean production is that we're tricked for  a moment into believing that the characters' fates might change, that the Friar will arrive to warn Romeo in time, that Henry V won't let a chest full of tennis balls upset him, or that Cordelia will stay away and flourish in the land that has welcomed her, and yet, their fates unfold as the Bard wrote them centuries ago. Except this time, with this Lear, we are sent away from the theater with a purpose: do not let history repeat itself, this time it's truly in our hands.