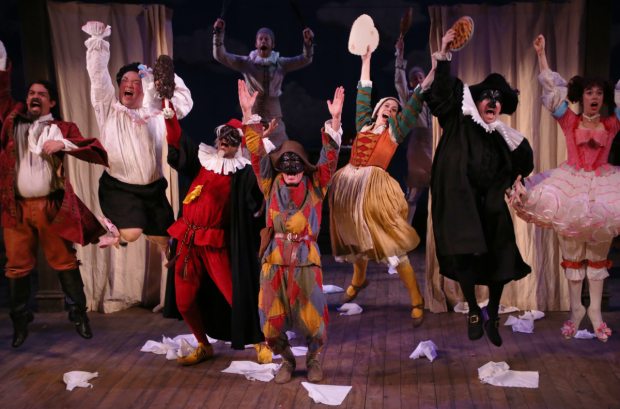 I tend to turn my nose up at physical humor, making it all the tastier to eat my words at Theater for a New Audience at the Polonsky Shakespeare Center's production of The Servant of Two Masters, which proved that a text from the 18th century can go beyond mere relevance in the 21st—it can make an audience of highbrow theater goers laugh so hard they nearly pee their pants.
Carlo Goldoni's comedy is in fine hands with director Christopher Bayes, the current head of physical acting at the Yale School of Drama, who learned the craft of mime and clowning from the legendary teacher, Jacques Lecoq. The production premiered in 2010 at Yale Repertory Theater, and has since traveled the country, only now making its New York premiere, with much of the original cast intact.
With Constance Cogdon's adaptation, with translation by Christina Sibul, as a starting point, Bayes preserves the tradition of commedia dell'arte, using caricatured stock figures, masks and—critically—room for the troupe to improvise from performance to performance. There's a fantastical self-awareness from the start, as a pair in broken Italian stumbles upon an old theatre, and, uncovering a trunk of fireflies that float into the sky and seem to cast a spell, unleashing the troupe into the world. Soon, the cast bursts out in full regalia and invites us in song to, "shake the rafters with your laughter," adding, as a challenge, "if you will or if you won't, and if you do or if you don't, 'tis but a choice of folly."
The play begins in Venice. Young Clarice's engagement to Federgio Rasponi is broken when he is killed in a duel, leaving her free to marry Silvio, the son of the Dottore and the man she loves. But the happy nuptials at the play's offset are interrupted when her former fiancé bursts in, very much alive. Only not all is as it seems; Federigo is actually his sister, Beatrice, in disguise. She's come to town to settle her late brother's business affairs with Clarice's father, Pantalone, and track down Florindo, her brother's murderer and (despite that) her one true love. Add in the hapless, very hungry manservant, Truffaldino, who, in his pursuit of dinner finds himself in the service of two masters, and you've got the skeleton on which to hang two hours of brilliant tomfoolery and ribald hijinks.
Included in the program is a section called Perspectives, a series of varying excerpts relating to the play in some way. It's worth reproducing a quote from Goldoni that true comedy is much more than "scenes slapped together with neither order nor rule." Though the agility and serendipity of improvisation is key to the very form of Servant, there was none of the unpleasant after taste -- that anxiety-producing looseness characteristic of improv, where you clench your fists and hope that things aren't going to careen off the rails.
Steven Epp is masterful as Tuffaldino, and the other actors seem to revolve around him and feed off of his energy; his scenes with Liam Craig's innkeeper, Brighella, in particular crackled with humorous precision. The troupe clearly trusts each other to the point where they can intuit both mentally and physically, but that tightness is no theatrical miracle— the majority of the cast learned the craft of commedia from Bayes himself at such high profile schools as NYU, Brown and Yale. Musicians Christopher Curtis and Aaron Halva flesh out the production with a symphony of instruments, both straight, like the cry of the fiddle, and slightly more whimsical, like the plink of a tiny baby grand.
Seeing the production towards the end of the run also meant that the cast felt all the more free to go crazy, and a particularly drawn out improvisation by the uproarious Allen Gilmore as Pantalone led another character to break character in an attempt to stifle his laughter.
In George Sand's Preface to Masques et Bouffons by Maurice Sand she writes that commedia is "fantastic humor which is in essence quite serious and, one might almost say, even sad, like every satire which lays bare the spiritual poverty of mankind."
Servant is surprisingly touching at times, from Truffaldino's love for Emily Young's Smeraldina, to Beatrice (played by the elegant Liz Wisan) and Clarice's (the delightfully childish Adine Verson) promise to help each other in the name of the common bond of womanhood.
The show both revealed its pliability and took on unexpected weight on Wednesday, November 9th when the outcome of the presidential election left many New Yorker devastated and confused. By ribbing on the President-Elect and of the passivity that put him in office, they both permitted audiences some small moment of relief through laughter and, perhaps even more importantly, reasserted theater's importance as a bastion of free speech. And that, alone, is rafter raising indeed.