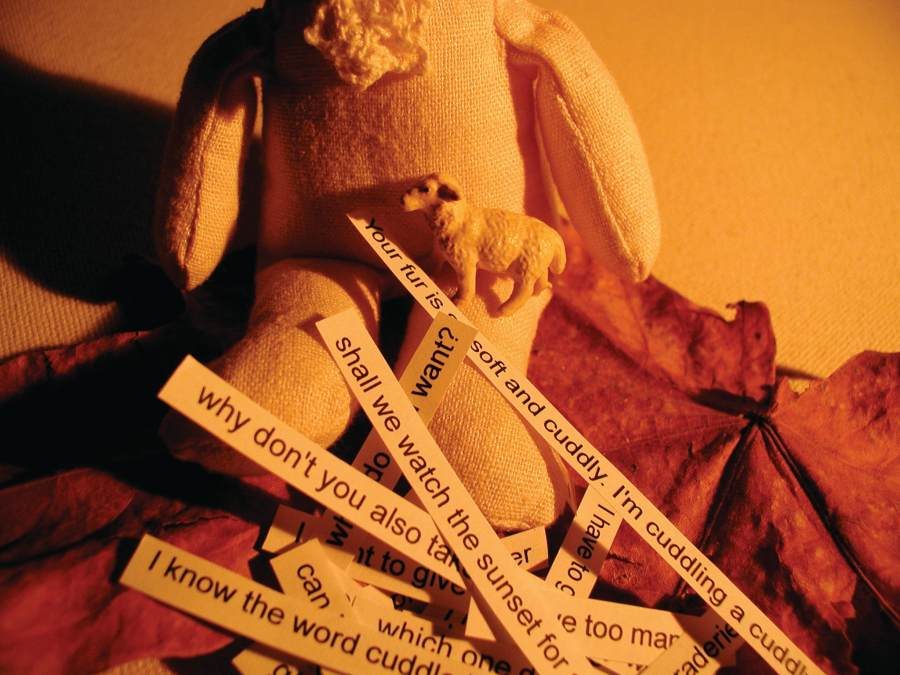 It's true the return of live theatre has got me feeling a little emotional, but if you'd told me I'd spend Thursday evening crying over a plastic sheep, I probably wouldn't have believed you. Nevertheless, thanks to Sachiyo Takahashi's SHEEP #1, a cinematic work situated somewhere between Dadaism and A. A. Milne, that's exactly what I found myself doing. Presented at Japan Society, this delightfully quirky show begins with the universally acknowledged truth:
"If a person wants a sheep, it is a proof that he exists. I lost my sheep, so I left home."
Face solemn, lit from below like a priestess arranging sacred items, Takahashi uses simple objects to recount the story of a hungry little sheep who journeys from home and back again. Ice cubes become a raging river; windup penguins a bustling crowd; a music box and a rose evoke the tender beauty of first love.
Our sheep's existential encounter with the wide world actually takes place in a very small cubicle of space, but since everything seems much bigger to the person living it, we see the action unfold on a large projector screen. Takahashi points the camera, manipulates the set with little more than colored plastic, a cardboard tube, and sometimes just her hand. To watch her do this is to reawaken to a childlike sense that every little thing—a slip of paper, a dry leaf—is monumental and capable of starring in its own story.
Two programs, labeled simply A and B, are presented on different nights. I saw Program A, with Emile Blondel providing live piano accompaniment. This live accompaniment, along with Takahashi's captions for each segment of the story ("departure," "adventure," "a girl") make it feel a bit like we're watching an old silent film. And in fact, there's no spoken dialogue. In the show's most endearing scene, the sheep converses with a stuffed bunny—or as the bunny calls himself, a philosopher—and the dialogue appears as text on slips of paper.
The two banter back and forth for a good while, quickly becoming fast friends, until the sheep finally admits: "I have to go." Then take my star, the philosopher says, and my words. I have too many of them. Which ones do you want?
SHEEP #1 is inspired by Antoine de Saint-Exupéry's The Little Prince (which should have clued me in, as I cannot get through that book without weeping), and it's easy to see which flowers Takahashi has plucked from Exupéry's bouquet: a sheep, a rose, a friendship over too soon, the immortality of stars. Like The Little Prince, SHEEP #1 is deceptively simple, a so-called children's story full of sweet humor and wise emotional truths. But while it certainly borrows from Saint-Exupéry's beloved masterpiece, at the end of the day, SHEEP #1 is an entirely new constellation: whimsical, unconventional, and deeply poignant.
If a person cries about a plastic sheep, it is a proof that Sachiyo Takahashi is a master of her craft.
SHEEP #1 plays the following performances:
Thursday, November 4 at 7:30pm: Program A, with Emile Blondel on piano
Friday, November 5 at 7:30pm: Program B, with Kato Hideki on bass guitar
Saturday, November 6 at 7:30pm: Program B, with Kato Hideki on bass guitar
Sunday, November 7 at 2:30pm: Program A, with Emile Blondel on piano
Tickets are $23 / $18 Japan Society members. Tickets can be purchased online at www.japansociety.org or by calling the Box Office at 212-715-1258 (M-F 9:00am – 5:00pm). Japan Society is located at 333 East 47th Street, between First and Second Avenues (accessible by the 4/5/6 at 42nd Street-Grand Central Station or the E at Lexington Avenue and 53rd Street).