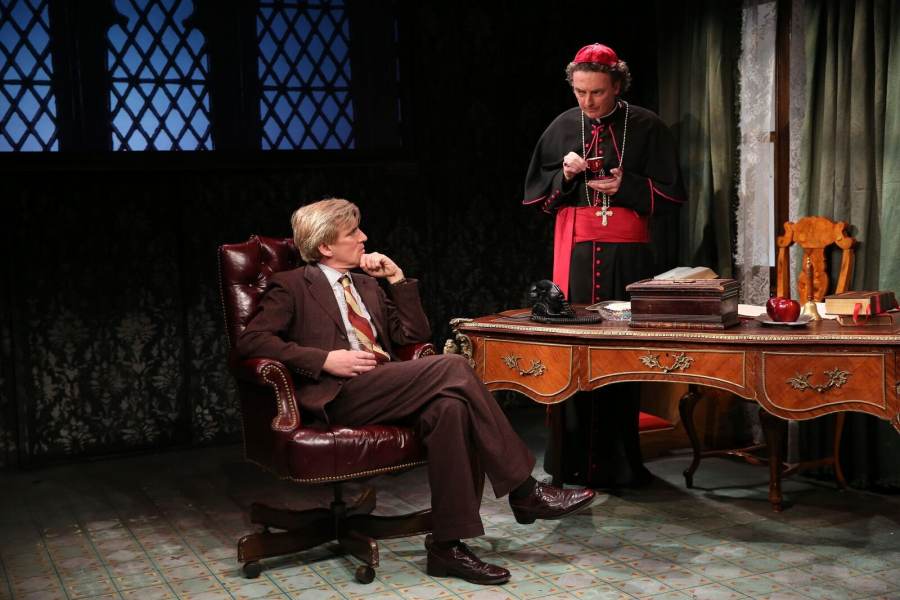 It's hard to forget the 2010 news images of the BP Deepwater Horizon blowout, the pathetically sad marine life gasping for air, daubed in the viscid black oil that spilled into the Gulf of Mexico for 87 days. Despite BP paying a record-breaking $18 billion settlement deal after being found guilty of gross negligence and reckless conduct, the fallout continues to gather aberrations from the deep.
Writer and director Leigh Fondakowski's play SPILL, presented by Ensemble Studio Theatre in partnership with the Alfred P. Sloan Foundation, is based on court hearings and over 200 interviews with survivors of the accident, the loved ones of the 11 employees that perished, the BP CEO and the chemically poisoned Louisiana locals who were paid $300 a day by BP to clean up the toxic abyss. The eight-person cast switch roles in and out of the events leading up to and including America's biggest environmental disaster.
The fate of the Macondo Prospect, named after the town in Gabriel García Márquez's One Hundred Years of Solitude, was written in its contest winning name. SPILL quotes the novel's description of Macondo as "no one knew for certain where the limits of reality lay." The BP version was also nicknamed the "well from hell." Making an oil well in the ocean is described as "like breaking a wild horse." Equally, the toll on an employee's family can be significant. "You make a lot of sacrifices when someone you love works offshore."
SPILL's outstanding cast, ill-boding sound and inventive staging upon simple, scenic design succeeds in cracking the artifice of theater by cramming the audience into the Deepwater Horizon during the massively consequential events that led to the detection of the pressure imbalance - the "kick". The red panic, chain-hauling action takes us deeper into the horrors of swimming through an ocean on fire, death by incineration, BP's private interests and a public-shunning police state situation along the affected coastline.
Despite President Obama's expressed desire to move away from fossil fuels in the wake of the disaster, many of those close to it believe that "the American Dream is still alive in the oil and gas industry." This documentary, verbatim-style play gets to the human core of a tragedy and the everyday struggles of people who have little option but to rely on the work opportunities that their habitat provides. SPILL's prognosis points directly to current corporate politics, comparable in no small way to those inimical BP chemical deposits.