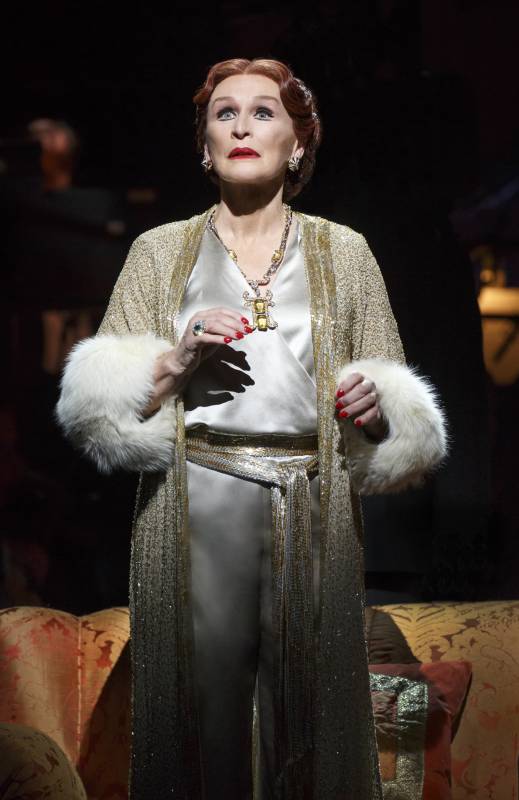 It's practically impossible to talk about Sunset Boulevard without mentioning the age of its leading lady. When Gloria Swanson originated the part of washed out movie star Norma Desmond in Billy Wilder's 1950 masterpiece, she was 50, only two years older than Glenn Close when she played the part in the musical version by Andrew Lloyd Webber, Christopher Hampton and Don Black in 1995. Having accumulated five decades on the planet hardly makes one ancient, and yet when a young starlet sees Norma at the Paramount lot, she comments how "she must be a million years old". Aging is a luxury the movie business hasn't allowed women to indulge in.
When Wilder, D.M. Marshman, Jr. and Charles Brackett wrote the screenplay, they created the ultimate indictment about the way in which the industry they cherished treated the great silent sirens they'd grown up watching, relegating them to "waxwork" status once their youth had faded. So there's something deliciously subversive in seeing Glenn Close at 69, playing a part written for an actress 20 years younger. Her performance in the scaled down Broadway revival is testament to how little things have changed, but also a celebration of its timeless leading lady, who two decades later still commands the stage with aplomb.
The production, imported from London and directed by Lonny Price, cuts back on the gargantuan sets that made the original one of the most famous musicals of the 90s, but in doing so it restores the essence of the story which is that everything should rely on Norma's face. And what a face! Close, who most of the time is buried under layers of thick white makeup, easily morphs into whatever the situation calls for: tragic clown, salacious diva, broken hearted lover. What's truly remarkable about her work here is she is able to communicate a myriad of emotions without the aid of closeups, her singing - tremulous or authoritative depending on the mood - her body language, and the larger than life expressions force us to zoom into her, as if we almost didn't have a choice.
What's even more fascinating is all the text between the lines, for the musical by now has become an homage not only to the film, but also to Lloyd Webber and Close, with every element commenting on their iconography. We see Phantom-like chandeliers hanging from Norma's mansion, and the way she swallows other characters whole can't help but remind one of Close's seminal work in Damages. It's also exhilarating to see what certain scenes do to the audience, who one feels aren't only excited to be seeing a great star onstage, but also are completely aware of the meta-ness of the musical (a scene where screenwriter Joe Gillis points out Norma is too old to play Salome for example is technically a wink at this production).
In the scene where Norma visits the studio where Cecil B. DeMille is filming Samson and Delilah, and Close sings "As If We Never Said Goodbye" the audience erupted into a sustained ovation that was as much about the scene itself, as it was about getting to see Close recreate one of the most iconic moments of her long career. Watching Close's magnificent face you could see both Norma realizing people still held some affection for her, and the actress playing her rejoicing in a much deserved victory lap. Not only did she never say goodbye, she has also never been better.