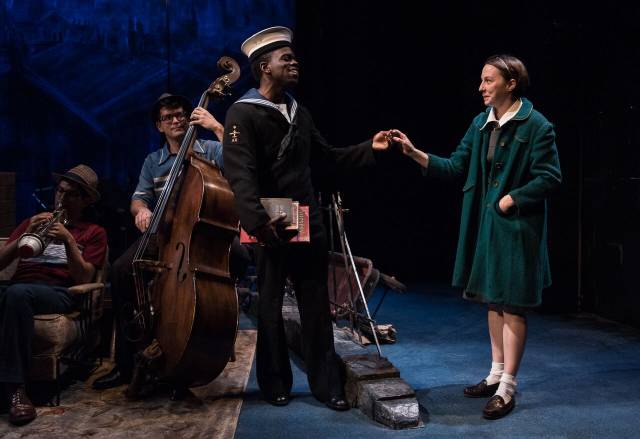 A Taste of Honey playwright Shelagh Delaney, born in Salford in the northwest of England, wrote her first play when she was just 18. In the late 1950s, Delaney's gender and class amounted to a great sum of odds that were against her. Nevertheless, A Taste of Honey became a West End and Broadway hit, spawning a 1961 film adaptation as well as a sturdy foot in the doorway of contemporary culture for the working class female perspective. Delaney also achieved cult status when her image adorned two Smiths record sleeves almost three decades later.
The play tells the story of Jo (Rebekah Brockman), a lonely 17-year-old girl who traipses after her prostitute mother Helen (Rachel Botchan) through a succession of rundown homes and no-good men. As her mother prepares to jump ship with alcoholic Romeo Peter (Bradford Cover), Jimmy (Ade Otukoya), Jo's black sailor boyfriend, gets back on his after getting her pregnant. En route to being an unwed mother of a mixed race child in 1950s Manchester, Jo finds comfort in her friendship with Geoff (John Evans Reese), a young gay man who is just as lonesome.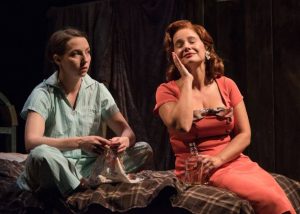 In The Pearl Theatre Company's revival of A Taste of Honey, live music (as befits the original staging) comes courtesy of Max Boiko (trumpet), Phil Faconti (guitar) and Walter Stinson (bass) who boldly take up the space within the set with, amongst music hall and jazz, the original Broadway production theme. They fade into the dim when possible and reappear as a character recalls a tune. Scenic designer Harry Feiner's shabby flat is set against an illustrated backdrop in charcoal tones of Manchester rooftops. The city's damp moods switch from sepia to the blue haul of nighttime. As Jo says, "I like this romantic half-light, it goes well with this Manchester maisonette."
The dimensions of the Greater Manchester dialect, not an easy undertaking, are accomplished at a pace that while occasionally wandering into Scotland via Liverpool (although Botchan's efforts are notably good), hook onto the pivotal cadence of the wittier exchanges, of which there are plenty. When Geoff asks Helen the identity of her inebriated husband, she replies, "President of the local Temperance Society."  Upon having Shakespeare quoted at her, Jo retorts, "Oh! Him. He said everything, didn't he?"
Botchan plays Helen with a likeability that is less apparent on the page, but the way the oft scowling Jo has her sad gaze lingering on the traces of her mother conveys a bond that runs deeper than their rotten circumstances. Director and all-rounder Austin Pendleton, together with a great cast, have successfully revitalized a time and a place that prefaced the 'British Invasion'.