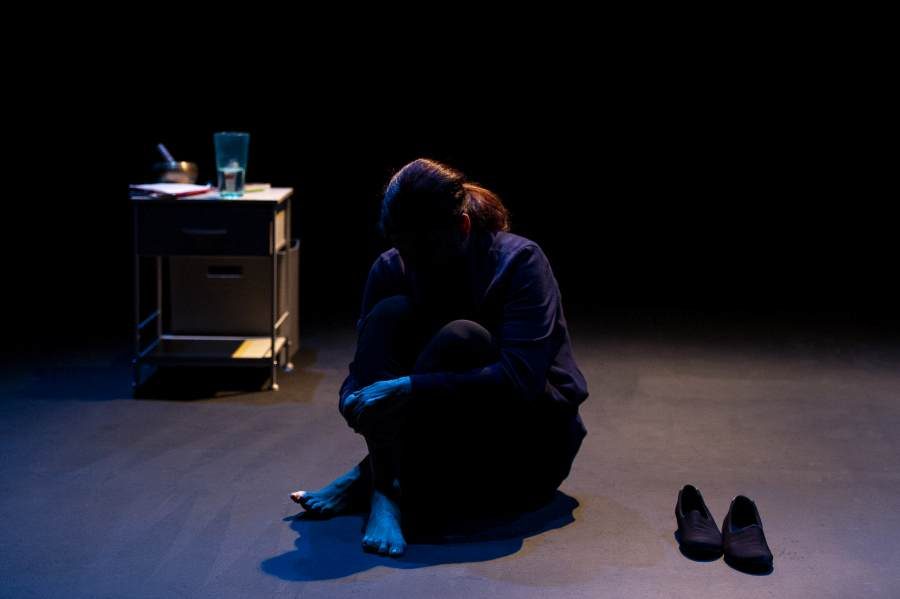 "Whether on stage in front of an audience, or over the phone to a friend - we need to tell our stories. When we tell our stories, we give others permission to do the same. This is how we break the stigma."
So says Adina Taubman in the program note for her one-woman show The Road Back: One Woman's Journey From Depression to Recovery (presented by Chrysalis Theatre Company and directed by Padraic Lillis at The Chain Theatre). Her note captures what's best about this production: it's a brutally honest sharing of Taubman's own struggle with depression, and while it's sometimes hard to watch due simply to the nature of the story, it's a valuable, eye-opening piece of theatre.
Taubman, an actor, wife, and mother, first falls under the shadow of depression after an explosive episode with her elderly parents. Brought on by concern over her parents' finances and the verbal abuse she suffers after broaching the topic, Taubman's stress quickly spirals out of control. Unable to go on with her day-to-day life, she becomes bed-ridden and borderline suicidal. Eventually, she realizes she needs help, but the road to recovery is a long one. Her attempts to get better lead her through a nightmarish hospital, a resort/treatment
center in Arizona, an outpatient DBT program, a community support group, and the offices of various doctors, psychiatrists, and therapists who all prescribe her different medications. As if suffering through manic depression isn't hard enough, she's faced with social stigma, an unclear diagnosis, and a family who just doesn't "get it."
While The Road Back could probably benefit from a tighter focus (especially early on), and more narrative cohesion (it gets a little episodic and rambling in parts), as it is, it's enough. The reality of Taubman's struggle comes through in her bold, unashamed recounting of it. More amazing than the story itself is her willingness to share it, and in so doing, to relive experiences many of us would prefer to forget. Most of the story is told in her voice, but she also inhabits a dynamic cast of supporting characters: her mother, father, husband, young daughters, psychologists, and fellow patients, among others. She even embodies her own depression and anxiety, and in doing so, delicately balances humor and honesty.
It's that blend of entertainment and authenticity that, more than anything else, allows this piece to succeed--and makes it bearable. The Road Back broaches very heavy subjects: rejection, self-harm, and suicide, among others. And because Taubman meets despair so often in her various attempts to heal, it's easy to start feeling a little hopeless oneself. Thankfully, this story has a happy ending. But in the retelling, it's worth spending longer on the searching than the finding, as Taubman does. It gives the audience a lesson in empathy, and it drives home the point that there's no quick fix for mood disorders. Instead, as Taubman illustrates throughout, the road to recovery is a continuous uphill climb--often in the dark.