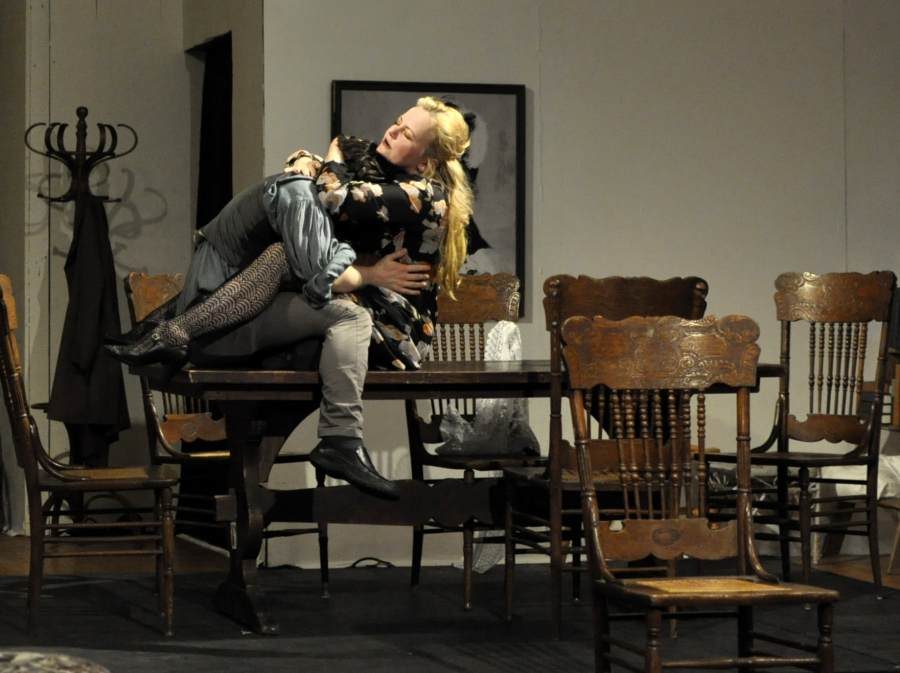 With the recent popularity of Natasha, Pierre, and the Great Comet of 1812, Russian drama has been making a comeback. But long before The Great Comet hit the Broadway stage, there was Anton Chekhov: the 19th-century Russian playwright famous for works like The Cherry Orchard, Uncle Vanya, and The Seagull.
With that in mind, if you can't afford a ticket to The Great Comet, or if the musical has whetted your appetite for Russian literature, The Instigators' immersive production of Chekhov's The Seagull is well worth the effort. I say effort because you're going to have to climb four flights of stairs to reach the gallery in which the play is performed. But you'll be glad you did.
Directed by Lillian Meredith and performed at Access Theater, The Seagull is a brilliant staging of Chekhov's masterpiece, thanks to an immersive setting, great blocking, and tremendous acting.
The story follows a group of friends and family members vacationing in a country estate in 19th century Russia. Among the main players are Irina Arkadina, a celebrated, egotistical actress; Trigorin, Irina's lover and a famous writer; Irina's son Konstantin, a budding writer who often finds himself frustrated by Irina's ego and overshadowed by Trigorin; and Nina, a young girl who lives nearby and dreams of becoming a famous actress like Irina.
The Instigators' staging sets the main action of the play in the center of the room (a fourth floor gallery space complete with a bar and piano), with the audience seated on three sides. But actors often enter and exit through the "aisles," and sometimes wait in the audience for their cue to come back onstage. Props like trees, Trigorin's fishing pole, and a clothesline extend into the audience, making the action still more immediate. And at one point Konstantin opens the window (the real window, not a fake one that's just part of the set) and shouts through it. Details like this one blur the line between art and "reality" throughout the play, which is only fitting, as the play itself deals with the intersection of these two (with tragic results).
Besides its "main" characters, Chekhov's play includes a colorful and compelling supporting cast. To me, one of the most delightful things about a Chekhov play is its variety of characters: each one enthralling, unique, and wonderfully alive. Equally delightful is Chekhov's ability to create such a multi-faceted story, complete with moments of comedy, tragedy, and devastating observations about human nature.
The actors in this production are more than competent enough to portray every aspect of Chekhov's play. Taylor Petracek delivers an emotionally exhaustive performance as Konstantin, and Jeanette Dilone plays Nina with warmth and poignant beauty. Fergus Scully also gives a beautiful performance as the writer Trigorin, and Kristen Vaughan's Arkadina is larger than life. Dorn, the doctor and "outsider" who acts as a sort of stand-in for the audience, is also masterfully played by Todd Licea, whose plain sense and compassion offer the audience some well needed respite in the midst of a rather messed up family.
When Trigorin describes the relentless pull of storytelling, and as Konstantin struggles against feelings of inferiority as a writer, you may wonder if Chekhov is speaking from experience - at least I did. But, as The Seagull demonstrates, Chekhov is a more brilliant writer than either of his counterparts in this play. In fact, this is a masterwork of western literature. And, performed with both finesse and panache by The Instigators, this is a production that's not to be missed.