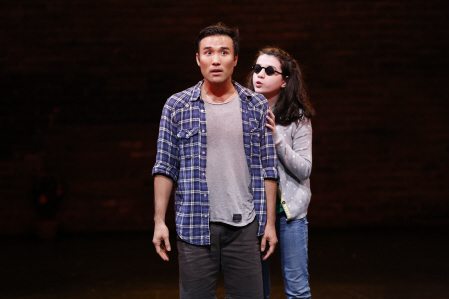 Transport Group's opening of Three Days to See, a play conceived and directed by Jack Cummings III based on Helen Keller's words, features a series of jokes about Keller being blind. As the play progresses, it becomes very clear that this production is very different from The Miracle Worker. For one, Keller is portrayed by a diverse group of actors, each infusing the character of Keller with a unique personality. The fact that the personalities blend together is a testament to Cummings' vision as well as the energetic cast's commitment.
This commitment is on full display through the entirely-too-long dance sequence, which depicts the infamous incident when Anne Sullivan first gets Keller to use a spoon. Set to a jazz tune, the cast takes turns being Keller in a fast-paced and rhythmic re-telling. The cast keeps up with the fast-changing beats and manages well with the stylized choreography throughout the play. Ito Aghayere, Chinaza Uche, and Marc De La Cruz stand out in their portrayal of Keller. They display the most range, accessing many aspects of Keller's voice, including her humor, her innocence, and her analytical approach to the world. The text Keller speaks is often dense, but it's a burden the cast carries with vigor.
What ends up hampering their performances is the heavy-handed direction by Cummings. The audience is subject to long stylized scenes about Keller's political views, and numerous choreographed sequences, when not requiring the actors to shift chairs and tables with the precision of a dancing stage hand, often prescribe particular repetitive movements. There is never a false step, not a pot out of place or a table slightly slanted. The exactness of the production pushes against its greatest strength – the humanity it lends to Keller.
The production's promise lies in its treatment of the icon's lesser known words – the pleasure she derives from reading Gone with the Wind, rendered with perfection by De La Cruz, the social isolation she endures in school, and the final scene where she describes what she would want to see if she had three days of sight. Taken from Keller's essay in Atlantic Monthly, the last ten minutes of Three Days to See are the most successful and affecting part of the production as the full power of Helen Keller emerges, not as a hero, but as a human. Cummings and his cast are successful in creating a character out of an icon and to see her portrayed by seven actors ultimately renders Keller more accessible, more part of us than she has ever been.