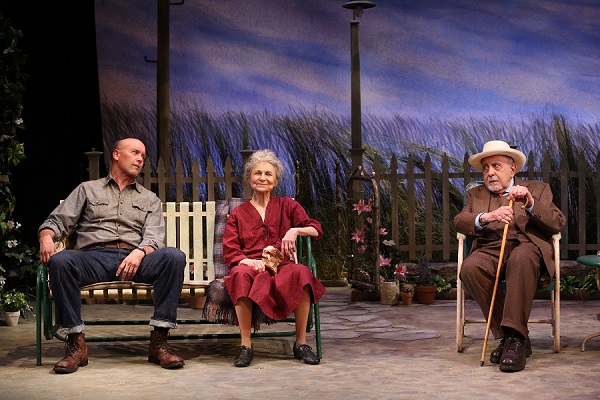 As part of celebrating 100 years of Horton Foote, Cherry Lane Theater brings The Traveling Lady to the stage with a cast of experienced and award-winning Broadway and Off-Broadway talent. The story is set in 1950 in a small town in Texas on the day of a funeral. A married woman traveling alone with her small daughter arrives, looking for her husband, who, she believes, has just been released from the penitentiary and is staying in town.
Foote's ability to peel off layers with each new scene keeps the audience interested; the personalities and histories of each character develop seamlessly, unveiled in what feels like real time and creating a very believable scenario. Many of the characters are very likable and as we get to learn more about them, we find ourselves sympathizing with them and even forgiving their flaws because an acceptance of their surroundings and circumstances has been so well established throughout. Larry Bull as Slim Murray is particularly likeable from the get go and we find ourselves rooting for him to win a more satisfying life. Jill Tanner as Mrs. Tillman plays the self-righteous do-gooder who takes in an ex-con with sympathy and real understanding. Multiple award winner (Tony, Drama Desk and Outer Critics Circle) Karen Ziemba doesn't disappoint as the slightly trodden-upon Sitter Mavis; she has captured the subtleties of the character's lost opportunities as the devoted daughter who puts up with her mischievous and slightly eccentric mother, Mrs. Mavis, played superbly by Lynn Cohen who provides much delight and laughs.
Austin Pendleton's direction was a little stagnant during many of the long narrative scenes, which could have benefited from more interesting staging and some movement from the actors -- although upon reflection this kind of underwhelming staging may have been more pertinent for the period in which the play was written and set, and acceptable for those who don't mind a slow-paced drama. Scenic and lighting designer Harry Feiner is to be congratulated on crafting a superb ambience throughout production with a good eye for detail. Theresa Squire's costumes were glorious, lovingly complemented by wigs and makeup perfectly in tune with that period of time. As for the play itself, Foote certainly captures the language and mind-sets of the townspeople he most likely grew up with as a boy in Texas himself, and the attitudes and belief systems of 1950's are very clearly expressed in their own charming, southern style -- which were, interestingly, sometimes at odds with a modern day audience.
For the chance to see a fine production of a classic American play, The Traveling Lady is well worth the trip.