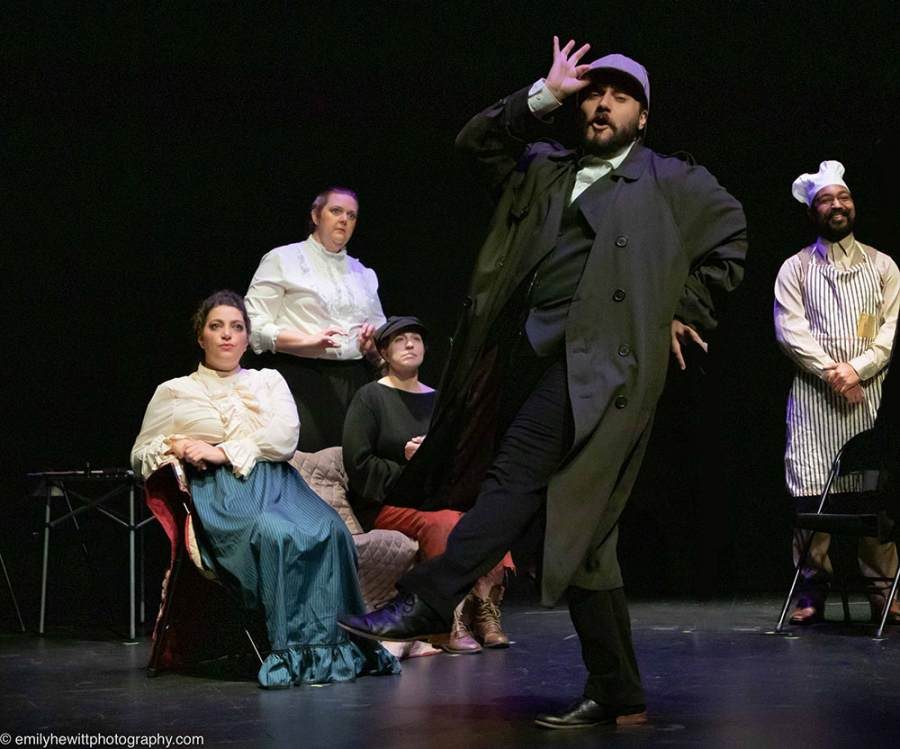 Sherlock Holmes may be one of the most popular characters of all time, but Arthur Conan Doyle had a love-hate relationship with the behemoth he created. Tired of his public's unending demand for stories about the great detective, Conan Doyle tried to kill Holmes off simply to end it all. But his dedicated readers forced him to bring their hero back from the dead. Since then, Holmes has enjoyed cultural immortality.
This love-hate relationship between author and character lies at the heart of Marney and Anthony Makridakis' new musical The Whimsical World of Sherlock Holmes. Directed by Kristen Penner, the show is part of the Broadway Bound Theatre Festival at Theatre Row, and may I just say in passing that attending a theatre festival again was absolutely wonderful.
In this new take on the Sherlock Holmes mythos, the Baker Street bunch are sick of their predetermined roles. Holmes has had it up to here with being an aloof, crime-solving genius, Watson longs to take up baking while his wife longs to take over detective work, and Moriarty is tired of being the bad guy. So, under Holmes's direction, the gang decides to write their own story--much to the chagrin of Conan Doyle, who fears he's going mad.
It's a charming idea and there are some real comic gems in this script. Aside from a slightly rocky start, the first few scenes are absolutely hilarious. Conan Doyle (a very funny Linus Gelber) splutters at his writing desk, downing alcohol as he grumbles about his approaching deadline and his servant gently reminds him that he hasn't been paid yet. Watson complains about how Conan Doyle constantly dangles "Baker Street" in front of him but never allows him to do any baking. There's a great segment in which Conan Doyle can't decide on how the policeman should enter or what piece of evidence he should pull from his bag, forcing the characters to back up and repeat the moment over and over again. A personal favorite was Moriarty lunging onstage in full villain song-and-dance mode, then becoming instantly chummy.
To all appearances, it seems we're in for a meta, tongue-in-cheek spoof on the Sherlock Holmes story.
Unfortunately, though, the musical doesn't keep up the comic gold of the first few scenes, and while there are genuinely funny moments scattered throughout, it falls apart somewhere in the middle. The problem may be that it takes itself too seriously, or that it's too long to sustain original comedy without becoming tiresome. Whatever the reason, The Whimsical World of Sherlock Holmes doesn't quite live up to the promises it makes early on.
Still, the premise is genius and the script holds promise, even if it needs polishing. The cast looks like they're having fun up there, and their antics win deserved laughter from the audience. Certainly, the Sherlock Holmes story has been told and retold so many times that it's more like myth at this point, and a meta spoof could be exactly what we need to save Holmes from falling into the trap of redundancy.