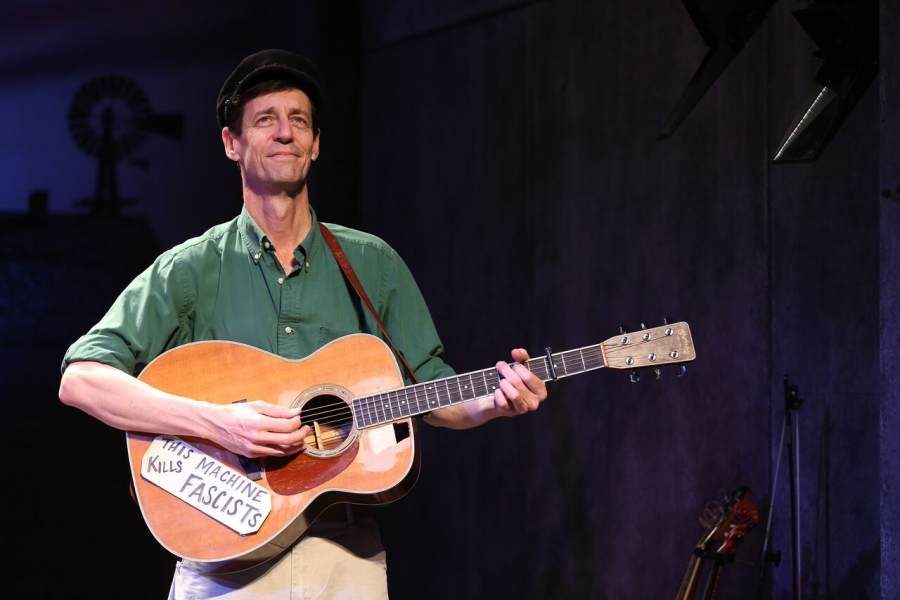 If you haven't yet made plans to see Woody Sez at the Irish Repertory Theatre, do. The show is two hours of pure string-plucking, chord-strumming, foot-stomping, storytelling delight. Through a combination of music and narration, a cast of four musician-actors tell the story of one of America's greatest songwriters: Woody Guthrie.
Guthrie is so deeply ingrained in the fabric of our country that most people know his songs without knowing who wrote them. A driven social activist as well as a prolific songwriter and energetic performer, Guthrie wrote American folk classics like "This Train is Bound for Glory," "Car Song" and, of course, "This Land Is Your Land." He influenced musicians like Bob Dylan, Bruce Springsteen, and U2 - to name but a few.
But before becoming an American folk legend, Guthrie struggled through a life full of hardship and struggle, from a poverty-stricken childhood with a mother who suffered from Huntington's to the Depression, Dust Bowl, and WWII. Maybe his vast wealth of experience explains why his songs resonate so widely and so deeply.
In this case, it also helps that he has a cast of energetic and highly proficient folk musicians telling his story. David M. Lutken plays Woody Guthrie with a mix of passion, humor, and exuberance that makes for a deeply compelling and moving portrait of the man. Strumming his guitar absently as he tells his story, Lutken succeeds in fusing Guthrie's music and life into a seamless whole. As his supporting cast, Megan Loomis, Helen Jean Russell, and Andy Teirstein are equally exuberant. It's a nice touch that Lutken, Russell, and Teirstein also "devised" the play, along with Nick Corley (who directs) and Darcie Deaville. Instruments played include guitar, banjo, fiddle, double bass, harmonica, Jew's harp, and spoons.
Another nice touch is the play's Homeric references. The program calls Guthrie "a Homeric figure," and he certainly seems like someone who might have stepped out of a Homeric work: a restless traveler with a gift for poetic eloquence, Guthrie effected his own Odyssey - from one end of the country to the other. He journeyed by foot, train, car, and boat. And he underwent several Odysseus-esque transformations - from poor Oklahoman boy to Dust Bowl Farmer, celebrated musician, and, finally, silent, stoic sufferer bowed by Huntington's Disease. But is Guthrie Odysseus? Or is he Homer? A gifted poet capable of articulating his countrymen's plight, Guthrie could arguably be either one.
As Woody says in the play: "I never knew the human race was this big. I never knew the fight had been going on so long." Throughout, Guthrie's stories kept reminding me of events happening today; and I noticed there were far too few young people in the audience. It's time American youth met Woody Guthrie. As members of the human race and the latest comers to the fight, I think today's young people, like so many from the 1930's onward, will find in Guthrie a fitting champion. And Woody Sez is the perfect introduction.