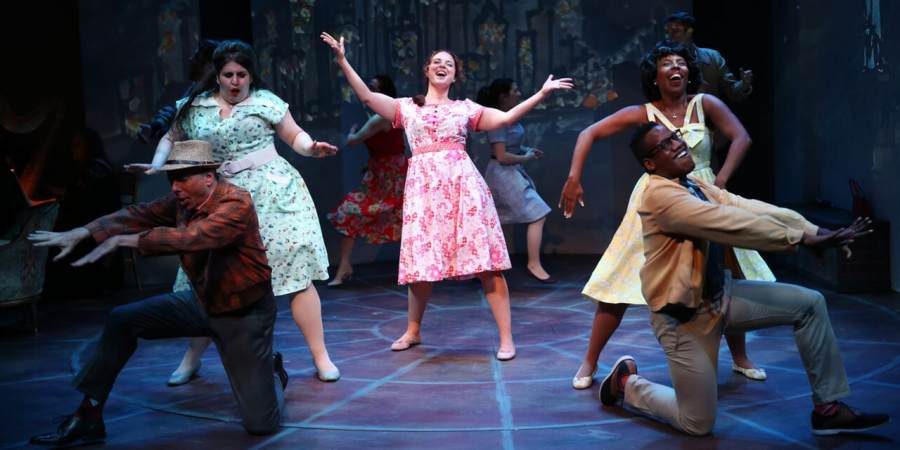 The plot of the 1965 Broadway musical On a Clear Day You Can See Forever centers on reincarnation. A kooky young New Yorker, Daisy Gamble, visits a psychiatrist, Dr. Mark Bruckner, for help in kicking her smoking habit. Under hypnosis, she reveals a past life in late 18th-century England as a woman named Melinda Welles. Eventually the doctor is convinced that Melinda is not a fabrication on Daisy's part, and he realizes he's falling in love with her (Melinda, that is—not Daisy). Meanwhile, Daisy—unaware that she has introduced Bruckner to Melinda—finds herself falling for the doctor.
The show enjoyed a respectable run in its first production and earned three Tony nominations, but the libretto, by Alan Jay Lerner—who also, along with Burton Lane, wrote the songs—didn't quite work. Over the decades, On a Clear Day, like Daisy, has had different incarnations, but its problems have persisted. The 1970 Vincente Minnelli film (with screenplay by Lerner) moved the regression sequences to the early 19th Century and altered Melinda's circumstances entirely. A 2011 Broadway "revisal" changed Daisy from a straight woman to a gay man at a time not long before the Stonewall riots and made Melinda a 1940s jazz singer. This show is—like 1971's Follies—one of musical theatre's beloved problem children. Its premise is engaging, and the songs are first-rate. Three of them ("What Did I Have That I Don't Have?" "Come Back to Me," and the title number) are solid American Songbook classics. And other numbers, including "Melinda" and "He/She Wasn't You," are also winners. But no matter how much people fiddle with the story, it always seems to misbehave.
Charlotte Moore, artistic director at the Irish Repertory Theatre, has now written a new adaptation, giving the show yet another spin. This rendition seems much like the original 1965 version, with some departures. For instance, Daisy's boyfriend, Warren, has been eliminated (although a minor character named Warren remains). And the score now includes "Who Is There Among Us Who Knows," a song written for the film, but snipped out of the final cut.
This production, directed by Moore, includes some lovely elements. The scenic design and the whimsical, colorful projection art (by James Morgan of the York Theatre Company) help provide a charming look. Barry McNabb's sprightly choreography makes the ensemble numbers fun—especially the joyful "S.S. Bernard Cohn."
But I'm afraid we may not yet have encountered the definitive On a Clear Day You Can See Forever.
There are some moments that left me puzzled. For instance, Daisy—who, in addition to having lived a past life, has a talent for ESP and other paranormal skills—tells Dr. Bruckner that she can make flowers grow fast by talking to them. That the doctor seems to accept her word on this matter with no evidence at all seems implausible. Also, a recording that Bruckner makes of Daisy speaking as Melinda while under hypnosis unaccountably also includes the voice of Melinda's mother. What gives with that?
As Daisy, Melissa Errico sounds when she sings a bit like Barbara Harris from the 1965 cast album, but she seems to be emulating Barbra Streisand from the film during the spoken dialogue. I found her kookiness a bit artificial in the early portions of the show. But she is quite touching toward the end when she reveals her tender feelings toward the psychiatrist.
Stephen Borgardus gives a somewhat lackluster turn as Bruckner. When his discovery of Daisy's past life breaks to the press, it puts the doctor's professional reputation in jeopardy, but Bogardus' Bruckner seems oddly unruffled by the complications that ensue—until, that is, it's time for him to sing "Come Back to Me" and he throws himself on the floor in exasperation.
A couple of other cast members have notable turns. John Cudia, as Melinda's disreputable lover Edward, provides some robust vocals. And Florrie Bagel has an impressive turn singing the lead on "Who Is There Among Us Who Knows." Keep that name in mind—Florrie Bagel. (It shouldn't be that hard to remember.)
The small musical ensemble, conducted by Gary Adler (with musical direction by John Bell and orchestrations by Josh Clayton) delivers admirably. The contributions from harpist Karen Lindquist lend a particularly appropriate air of mystery to the supernatural scenario, as do the vocal harmonies from the ensemble.