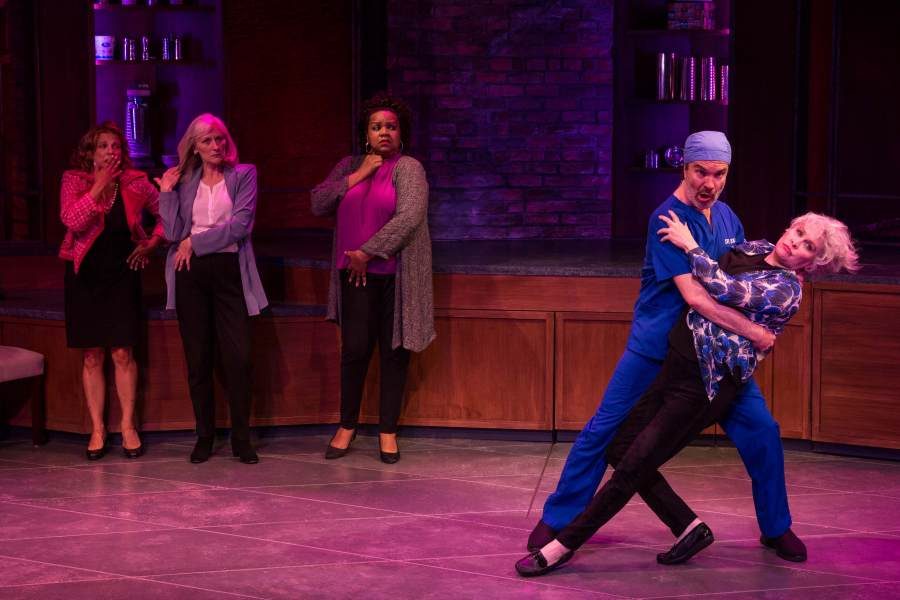 The new Off-Broadway musical Curvy Widow (at Westside Theatre/Upstairs) shares plot points with one of Broadway's biggest current musical hits, Hello, Dolly! Both shows present a middle-aged widow with gumption to spare who completes a suitable period of mourning and decides to return to the land of the living. Like Dolly Levi, curvy widow Bobby Goldman (Nancy Opel), an accomplished businesswoman who runs her own construction company, feels considerable apprehension about beginning a new life without her beloved mate. (The show's libretto—and, no, you're not seeing double—is by Bobby Goldman, widow of writer James Goldman, so it's, apparently, largely autobiographical.) Bobby and Dolly live in vastly different worlds, however. Thornton Wilder's wily matchmaker never had to contend with the dicey business of online dating that Bobby navigates. Bobby meets many men after her shrink convinces her to plummet into the dating pool, but they're mostly jerks, users, chauvinistic boors, or somebody else's husband.
The show (directed by Peter Flynn) is lightweight and escapist stuff, but it has moments of thoughtfulness as well as fun. It's a fine part for Opel, who brings to this star turn all of the comic talents she's sharpened as an ensemble player and featured performer in Broadway shows from Triumph of Love to Urinetown to Honeymoon in Vegas. There's a comic dichotomy in her performance that defines the character handily. Bobby is torn between decorum and high-spiritedness. She fears the sexual opportunities that are suddenly available to her, but she is simultaneously determined to put herself forward. The knowledge that she's of a certain age is always running through her head, it seems, along with the adage that there's no fool like an old fool. At points she's ready to toss it all in. ("The last time I went on a date," she grouses, "a shrimp cocktail was a buck fifty.") Still, she remains game—which is why we root for her. The bifurcation in Opel's performance extends to her singing voice. Her lower range is throaty and brassy, while her upper register is sweet and appealingly delicate.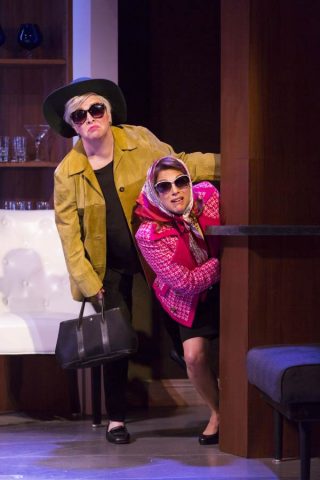 The supporting characters are played by six ensemble members: three men and three women, none of them kids. It's a pleasure to see a cast of mature performers carrying a show so adeptly, and it's refreshing that Goldman didn't feel the need to write in any sweet young things, male or female. The players are skilled at giving their many characters distinguishing attributes. Ken Land, for instance, plays the ghost of Bobby's husband one minute and her potential new beau the next, and there's never an instant of confusion.
The score, by Drew Brody, has some run-of-the-mill, generic-sounding songs. But it has a few dandy ones too, including two sung by Opel: the razzamatazz-y title number and the very funny "The Rules for Whittling Down" (in which Bobby creates a process of elimination after posting an ad on a hook-up site and getting flooded with responses). Also witty is "Looking For," sung by a trio of married men looking for flings—trying to be silver foxes but coming off, finally, as weasels.
I imagine Curvy Widow will have a very successful post-New York life. It can probably be staged rather simply and inexpensively (though Rob Bissinger's design here is fairly ambitious), and its title role will appeal to any number of talented comedic female performers across the country. For now, though, it's Nancy Opel's vehicle, and the driver seems to be thoroughly enjoying the ride.