'Songs about Trains': a foot-stomping, powerhouse look at the outsiders who built America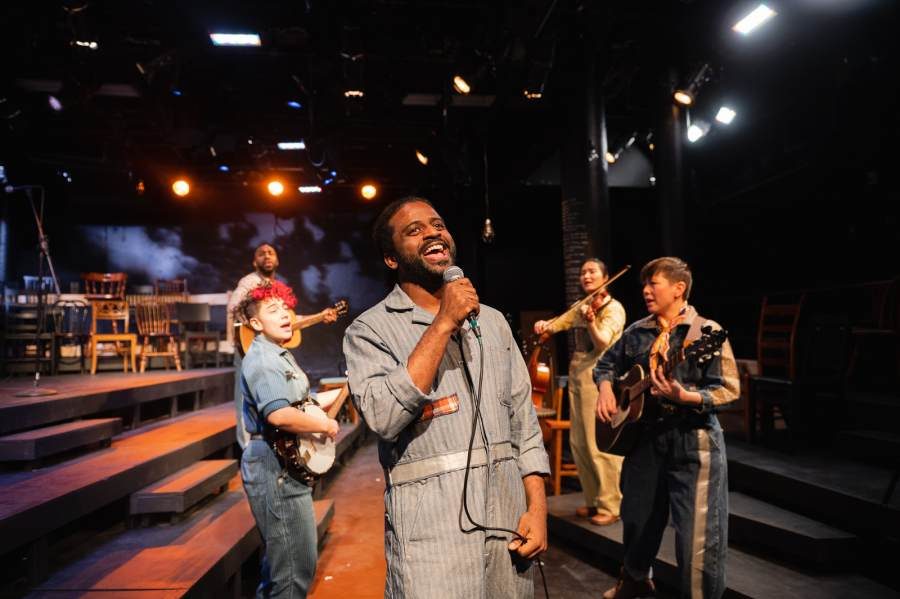 I was hooked from the title. As someone who loves folk music and was largely raised on "songs about trains," I was pretty sure I was going to love it before I even stepped into the theatre: a darkened auditorium with hanging lights, antique-looking chairs set up on two sides of the stage (in addition to the main seating), and coal scattered on the floor. And to make a long story short, it lived up to my expectations.
Songs About Trains: A Celebration of Labor Through Folk Music, presented by Working Theater, Radical Evolution, and New Ohio Theatre, tells the story of the men and women who worked on America's railroads from the 1800s to the 2000s, through a combination of folk songs and first-person narratives. Directed by Rebecca Martínez and Taylor Reynolds, the ensemble cast reads letters home from Irish, Chinese, Mexican, and Black laborers. They also sing, play every conceivable stringed instrument plus harmonica and drums, and, if that weren't impressive enough, cast member C.K. Edwards tap dances. His rigorous, exhilarating performance is a definite highlight of this already very enjoyable show.
It's nice to see these stories, about the various waves of immigrants and minorities who built the railway, told by such a diverse--and diversely talented--cast. Comprised of actor/musicians who have performed on Broadway and elsewhere, Songs About Trains is exciting both musically and narratively, and boasts powerhouse vocals. I was one of the few brave enough to opt for the "onstage" seating, and it was an exciting, intimate experience. No fear of audience participation (though you may occasionally make eye contact with a performer), it's simply a way to be closer to the action and more "in" the music.
While its one shortcoming may be the lack of a concrete narrative structure, such a fault is easily forgiven in a show with this many thrilling performances and foot-stomping tunes. Besides, the aforementioned tap number and a strong finish (to the tune of Elizabeth Cotton's "Freight Train") compensates for the slight slow of momentum in the second half. If you're a fan of bluegrass, folk music, immigrant narratives, or trains, this is the show for you.
Why are there so many songs about trains? Are we drawn to the escapism they offer? Or the excitement of a train whistle in a busy station? Do we somehow realize that--built, run, and used as it was by so many races--the railroad unites us as a nation in more than one way?
As I listened to the stories and songs, I gained a new appreciation for the groups of outsiders who, working individually over time, brought the modern age to America. Many gave literally everything they had (including life and limb) to the railroad, often in exchange for pitiful rations, extreme conditions, and devastating illness. Their sacrifices survive today in the form of the songs they left behind--and this production is a wonderful way to experience both those songs and the stories that inspired them.