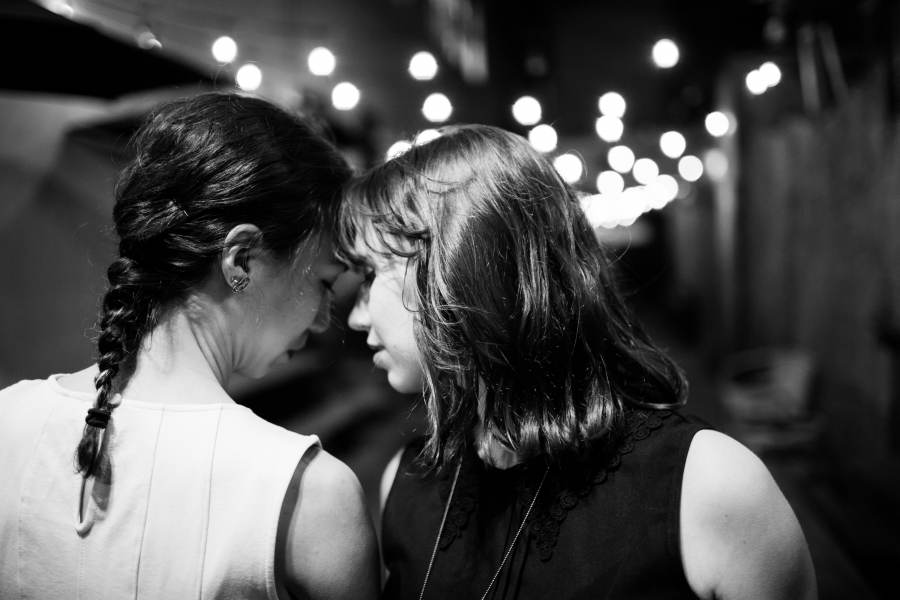 Shelley Farmer is an accomplished performer, writer and director currently working on a queer musical called And the Moon, we spoke to her about what she hopes to accomplish with the film, songwriting, her visual influences and how we can help her reach her vision.
And the Moon is like ______ meets ________
Carol meets An American in Paris - meets Le Notti Bianche!
Why make a musical?
I feel movie musicals can achieve a transcendence that no other form can - the interaction of cinematography, mise-en-scène, text, and music allows for an intensity of emotion that image and text alone can't achieve. Plus, musicals are disproportionately created and consumed by queer people, but the subject matter of musicals often fails to reflect that.
"And the Moon" was one of the first songs you wrote, what prompted you to write it?
I had written a few songs before this, and have always found that song ideas come in mysterious, unexpected ways. I found myself thinking about dates that seem to last forever, when the evening ends late at night, and the city feels almost empty and it almost feels like you and your date are alone in the world. Once I started thinking about that scenario, the music and lyrics seemed to come together all at once.
How did you know when the song was "done"?
This one was actually an unusual scenario. Most songs I've written have basically come to me with melody and lyrics complete. For this one, playing around with it with my friend Michael Gildin, he helped me discover tweaks that the bridge needed. Then, after I'd written the screenplay around the song, a big part of the rehearsal process was Michael improvising with me and our choreographer, Adrianna Aguilar, to create the dance music that occurs in the middle of the song. Once we began working on dance music with Michael, the only way to determine when it was "done" was to figure out exactly what beats we needed to hit emotionally, and to determine when the music accomplished that.
What will be some of the challenges of capturing dance on camera? Can you mention specific films that you think best capture dance?
Capturing dance is certainly a challenge! In general, I tend to prefer films that capture choreography in wide shots and continuous takes, while also creating intimacy with some closeups of expressions and specific gestures. For me, nothing can beat the way An American in Paris captures dance, story, and character.
How do you feel the current political climate makes it harder for queer women and men to express themselves in public?
Being publicly queer has definitely taken on extra weight in the context of an administration that is so openly opposed to the rights of women and queer people. As a bi, femme-presenting woman, I get to experience a degree of public invisibility that I know isn't an option for a lot of people. So, for myself, it feels more necessary in this climate to not just accept that privilege, but to actively push for queer women's visibility.
The film takes place during a date, what do you think are the best date movies?
I'm the worst possible person to recommend date movies - I've literally gone on dates to see Son of Saul and Diary of a Country Priest. I've definitely entertained a dream of watching Shop Around the Corner on a date for a while, though.
White Nights is not one of the happiest films out there, neither are The Umbrellas of Cherbourg, Brief Encounter or the other titles on the Kickstarter page? Should we worry about our hearts in advance?
No need to fear! A lot of tragic romances have informed the film aesthetically, but it's really important to me tell stories about queer women that have happy endings. I distinctly remember telling a friend after I saw Carol that I wished I had seen it as a teenager because I was so happy to see a story about love between women that employed art film aesthetics and was allowed to depict genuine love and the possibility of happiness. So, that's what I want to capture with this film!
Why should people pledge to the film?
Unfortunately, stories from women's perspectives and queer stories are still consistently underrepresented in cinema. Supporting the female artists involved with this film is a step toward creating a cinematic landscape that truly embraces women and queer stories.
To learn more about And the Moon visit its Kickstarter page by clicking here.