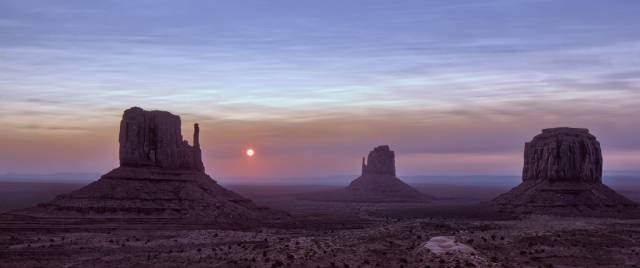 With moody alto-sax melodies and 3D visuals stunning enough to pop eyeballs out of sockets, Minimus 3D Arkestra reinvents what the combination of moving image and music can accomplish. In usual cases, performed art that attempts at a redefinition or hybridization of genre comes off as overly conceptual, melodramatic, or ostentatious. This collaborative effort, on the other hand, is an aesthetic achievement of a high order. What Ikuo Nakamura (film) and Hayes Greenfield (sax/voice/effects rig) accomplish is not merely a conceptual innovation, but something more transcendent.
After the audience dons on a pair of 3D glasses, Greenfield blows jazzy riffs that can make lovers nostalgic. This unique score is originally an improvisation that was written down as a composition to be performed. As the music progresses, he adds layers and layers to the music in real time with a looping technology, creating a grand, nearly orchestral sound. This is coupled with Nakamura's images taken from Utah canyons, NYC streets, Andean villages, and Easter Island with a dreamlike backdrop, along with other shots taken in over fifteen countries. Nakamura gets a feel for the music (which is the pulse in which the whole performance thrives) and then proceeds to interchange them to a rhythm distinctive to each performance. No two shows can be the same. The way the images are conducted resemble jazz's spirit of improvisation more than the music, which is where the bulk of Minimus 3D Arkestra's innovation lies. When the pace of the music picks up or slows down, the images will complement them. Nakamura selects shots that go along with the loudness, softness, swiftness, or slowness of the moment.
Minimus 3D Arkestra's features images moving in a fluid rhythm, devoid of anything resembling a plot. Each image has its own ecstatic quality and contains a particular sensual pull that the atmosphere and music create. The image is propelled by its own power without being augmented by anything resembling meaning and structure, a power that is generated by attention to intuition and the senses. Nakamura and Greenfield achieve what most artists strive for: to be original and innovative without sacrificing beauty.