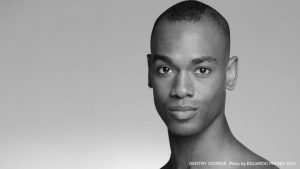 You might have seen Gentry Isaiah George on the numerous Ailey II posters around the city and on subway platforms, suspended in the air with divine grace and power.  This young accomplished dancer, poet, and new Artistic Director of Zest Collective, an emerging contemporary performance art company, is sharing his love and dedication to his craft by documenting his journey of creation through exploration in space, time, and film.
As their first project, Zest Collective has produced a contemporary web drama entitled "Launch", divided into a series of mini-episodes and following an aimless wanderer who, by immolating his body, launches himself into uncharted domain.
StageBuddy chatted with Gentry about inspiration, limitations, and multimedia as it it relates to his work.
StageBuddy: What inspired you to create Zest Collective?
Gentry Isaiah George: I was performing upstate New York when I fell down and had a very bad injury and thinking how I would continue dancing, how would I continue to be a growing artist I was jump roping and the name Zest came to me and I let it sit with me for a while and then the Collective added and the name was so beautiful I just continued with it that way serving as an opportunity to take a break, to invest in something else and I reached out to my friends to see who was interested in doing some creative studies with me and I was met with overwhelming enthusiasm from everyone so I continued with my pursuits.
Zest Collective gives opportunities to very talented performing artists with limited platform to showcase their inner spirit.
SB: What's the importance of multimedia in your work?
GG: Each work should be a moving art installation with the capability to perform at many different venues, [but] it's pretty cold right now, so we can't operate as we would like to.
There has been a huge influence of the flash mob generation in New York, and it would be interesting to see a higher caliber of art just on display in nature and in the parks, within the city landscape.  Multimedia has become a tool of education for me and my dancers: we get to learn and reflect; we get to see our movement in a much different way.  It's a great means for collaboration and brings about a different sensibility once the work is abstracted through a different media; it changes our environment, becoming a continual, processional change.  So it's not just, 'this is what I see,' or '[this is] what I create'; more than this, it is just what the dancer has done.
Most of the work we created in silence with no melodic tune to it.  Abstracting it with multimedia visuals it allows for a constant rediscovery; the editing process brings about things that I had never discovered by sitting in a studio observing, giving it a rich layer of beauty.
StageBuddy: Could you explain what "Launch" is about?
GG: The main character, Obremski, is trapped in a world of intimate explorations and is greeted by Jake Stainback (The Sage), representative of the Womb, and Sergio Tapia-Fikes (The Social Reject), representative of Air.  Jenna Graves plays The Mystic and she foreshadows Obremski's encounter with The Figure of Death, played by Matthew Perez.
"Launch" questions what level of meditation does one attain by moving through raging flames.
Check out "Launch" Episode 1:
[youtube]https://www.youtube.com/watch?v=3lkb8_AMIkk[/youtube]
SB: What is the Zest Collective experience?
GG: I heard someone state that the Zest Collective is something that draws you in and spits you right back out.
SB: What's in the future for Zest?
GG: With time we aim to own a gallery and theater venue where we can create innovative material and house our archives. We would like to do some international touring: it aids in my learning process, in bringing art back to the world and sharing with many different cultures.
SB: What are your limits and how do you work around them?
GG: Limits: we have no budget at the moment as a company; I've used some of my own personal funds to rent out rehearsal studios.  When we did the filming for our first contemporary web drama, "Launch", it was pure luck and grace that our set designer Leo Castañeda goes to Hunter College and was able to secure space for us to work in an empty gallery.  We're also teamed up with a gentlemen, Morel Doucet, who works at Miami Perez Art Museum, and he's our creative marketing director.  All of it has been based on great enthusiasm from my friends and other artists to create these works and generate some buzz before getting funding to create bigger projects.
Check out "Launch" Episode 4:
[youtube]https://www.youtube.com/watch?v=n0GH45hUWjs[/youtube]
GG: This episode explores the heart of death and the passage of time.
SB: What is your advice to younger dancers?
GG: I think it is very important to be extremely, extremely, extremely well trained.  I think you must be extremely strong; you must attempt to align yourself with some sort of spiritual reality, or leave room for the openness to find breath and a sense of meditation within the body.  We must not be so focused with just dance but also engage with other arts and humanitarian studies; we must read a lot and see a lot of different movies, really get a broad perspective; and spend a lot of time alone and in silence, just discovering what your natural body is telling you.  I think you should go for anything that you want to do, the more bizarre it is; if you really think that it's possible, then it more than likely is achievable.
(This interview has been condensed and edited.)
For more information on Zest Collective please visit their Facebook Page here. You can also catch the rest of the Contemporary Web Drama here.