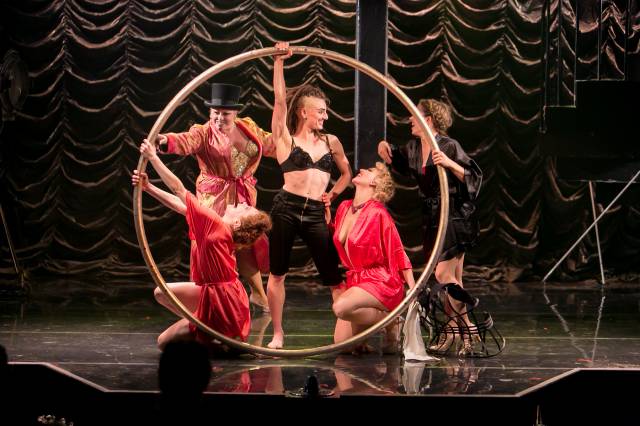 Rococo Rouge, presented by Company XIV and conceived, directed, and choreographed by Austin McCormick, will be running through November 2, 2014 in their new home, XIV. Upon entering, you are immediately placed in a world of exuberance and vitality reminiscent of the Baroque era, a time period which has greatly influenced McCormick's artistic style. A modern use of antiqated design is brilliantly implemented in every aspect of their theater-lounge space, preparing guests for the grandeur to come. A lusty theatrical experience, Rococo Rouge meshes the Late Baroque style with contemporary pop culture to create a truly invigorating event reminiscent of an early 18th century opera-ballet.
Austin McCormick is not afraid to break rules of propriety, and does so in the most tasteful manner—a breath-takingly elegant pole dance comes to mind. Throughout the show, an emboldened emcee, Shelly Watson, guides us through this adventure of all things exuberant with her out-spoken and witty charm, not to mention her remarkable singing voice. Along with the pole dance, we watch a full company fan dance, a stunning aerial duet, a cyr wheel artist, and much more--all set with various musical entertainments whether it be classical opera, contemporary pop, or something in between. The performers, in their skimpy yet gorgeous costumes, are unmistakably sexy. The music and movement is sexy. The lighting is sexy. Everything in the room is sexy and crafted to make the audience feel sexy too. While sipping on cocktails and lounging on baroque style chairs, the audience becomes cohorts with the characters, never feeling left out of this fantastical world of opulence and voluptuousness.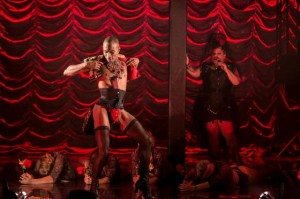 McCormick and his designers Jeanette Yew (lighting) and Zane Pihlstrom (costume and set) excite all the senses so as to communicate serious matters of the human condition. A highlight comes in the final scenes when a gorgeous Katrina Cunningham sings a reinvented Beyonce song with impressive guitarist, Rob Mastrianni, while glitter falls like snow over the entire stage. All the technical components plus the talent and expressive nature of the performers makes for one hell of a moment. But, amid all the flash, real human emotion is unmistakable. Smart, humorous, touching, and beautiful, Rococo Rouge is a genuine human story of desire, passion, and sensual experience. A story well told.
Performances of Company XIV's Rococo Rouge continue through November 2 at XIV (428 Lafayette Street). For more information and tickets, visit https://CompanyXIV.com