Review: Company Water on Mars, Andréane Leclerc /Nadère Arts Vivants, and Barely Methodical Troupe at Circus Now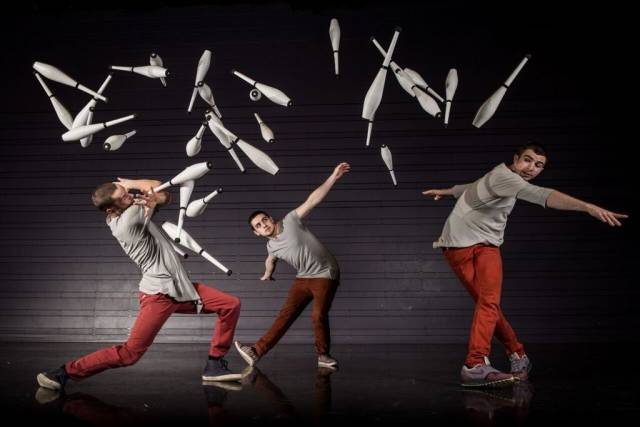 Much of the circus arts exist outside of a big top. This is evidenced by the three groups that performed in Friday's International Contemporary Circus Expo at NYU's Skirball Center. The expo was sponsored by Circus Now, a nonprofit dedicated to supporting the circus arts in the U.S. All three groups brought something very different to the stage, demonstrating just how diverse the circus can be.
Contortionist Andréane Leclerc and Montreal-based Nadère Arts Vivants presented the U.S. premiere of The Whore of Babylon, with original music by Martyn Jacques and The Tiger Lillies. Leclerc created a tapestry with contortionist movement and spoken-word that reinterprets the story of the Whore of Babylon from the Book of Revelation. Dark, bestial and bordering on pornographic, this piece is probably the furthest from what audiences may view as circus arts, if not for the mesmerizing, half-naked contortionists writhing on and around each other.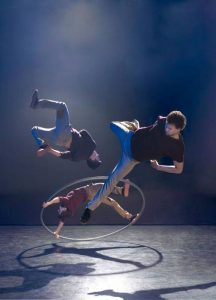 Taking a very different turn was the three-man juggling act Water on Mars. Entering the stage in creative and varied ways, Wes Peden, Tony Pezzo, and Patrik Elmnert were a vision in neon. Even their juggling accouterments were so brightly colored they were almost hypnotic. The three men did juggling tricks I'd never seen before. Sure they had the typical clubs and balls, but they could not be satisfied with simply keeping a few things in the air. Adding to their antics was a roll of clear tape, which they used to tape clubs into bunches, one club onto another on an off angle, a circle to a club, and so much more. They infused their performance with humor and playfulness, evinced by their juggling rolls of toilet paper, open bottles of water, and bags of candy, which they promptly flung into the audience. But nothing tickled the funny bone quite like their deliberately anti-climactic final trick, a domino effect in which the end result was to silence the incessant yodeling on a media player.
Barely Methodical Troupe stepped up next to perform Bromance, a tapestry blending acrobatics, dance and parkour. Beren D'Amico, Louis Gift and Charlie Wheeller, three charming blokes from Britain, made up this impressive trio and took the idea of a bromance to a place where few straight males would prefer to go. D'Amico and Gift had the audience cheering with their hand-to-hand performances, while Wheeller wowed on the Cyr Wheel, something that looks like an oversized hula hoop in which Wheeller fit inside and spun around, almost ballet-like.
Emceed by circus composer Sxip Shirey, who entertained the audience with his mélange of musical instruments between acts, the Circus Expo did what it espoused: promote and support more circus arts in America. Hopefully, audiences realize that circus is about so much more than clowns and trapeze. It's also about pushing the body to explore it's own storytelling capabilities, and entertaining people in the process.