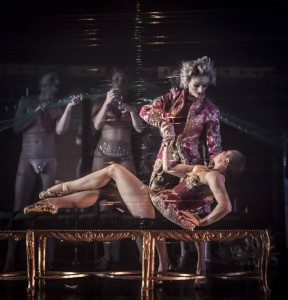 The ingenuity of Austin McCormick -- the choreographer, Artistic Director and founder of Company XIV -- shines in Company XIV's production of Snow White. He's taken on Cinderella, The Nutcracker and, now, this darkly stylized burlesque ballet version of the classic Grimm tale. The glittery, nearly nude show features, as always, Company XIV's extremely talented and sexy company members dancing onstage in corsets, stilettos and sparkly, barely there underwear.
Hilly Bodin as the lovely Snow White highlights her gorgeously fluid ballet abilities and makes dancing in high heels look easy. While The Prince (Courtney Giannone) doesn't show up until later to kiss Snow White back to life, Giannone lends her classical piano playing (Debussy and Prokofiev) in the first act. In the second, she captivates with an exceptional Cyr Wheel performance.
Marcy Richardson, as always, astounds with her incredible acrobatic strength and amazing voice. In addition to the classical arias by Schubert and Handel she sings so beautifully, she gets to do operatic versions of pop songs, such as "Talking Body" by Tove Lo and Britney Spears' "Toxic." Malik Kitchen, as one of the Queen's Men, adds his own brilliant vocals to a couple of newer songs, including Troye Sivan's "Bite" and "Simple Things" by Miguel.
As the one with the most prominent speaking role, Lea Helle lends her sultry voice as the German puppeteer and narrator of the story. Her mixture of German and English languages is perfect for the Weimar-esque cabaret style of this production, which includes the use of live video feeds of the performers projected onto the curtains (Jeanette Oi-Suk Yew).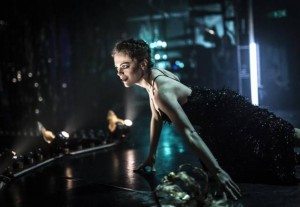 Laura Careless as The Queen is wonderfully wicked as she is stymied by every effort to murder Snow White and become "the fairest of us all." McCormick loves his bitchy queens, as evidenced by showcasing the divine Davon Rainey as the evil stepmother in Cinderella (still great but featured less prominently in Snow White as one of the Queen's Men). He gives no less treatment to Snow White's evil Queen, who will stop at nothing to see Snow White dead. Her final dance when she realizes her efforts are futile is breathtaking.
Company XIV's resident costume and makeup mavens (Zane Pihlstrom and Sarah Cimino, respectively) do it again with their highly stylized baroque meets burlesque costumes and oversized but intricate headpieces. Pihlstrom's set design cleverly incorporates several layers of curtains, turning them into the Queen's talking mirror. To create Snow White's glass coffin, the performers wrap a large spool of plastic wrap around two columns.
With the sumptuous Snow White wrapping up an ambitious season for Company XIV, it would be a shame to miss out. Grab your tickets and head over to the Minetta Lane Theatre to bask in the delights of McCormick and company.