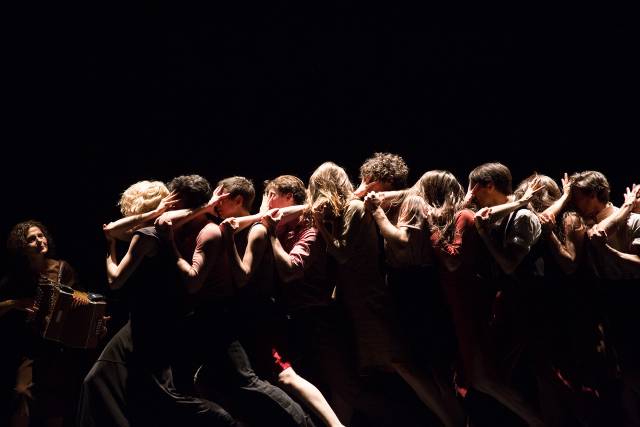 Eric Gauthier founded Gauthier Dance//Dance Company Theaterhaus Stuttgart in 2007 because he wanted to show his future wife that dance could be magnificent. She had seen him star in a classical ballet which she'd found to be less than compelling, and the romantic Eric figured he would create his own company to win her over and over and over. His astonishing dance company therefore is like the Taj Mahal of dance, a monument to love that inspires those who encounter it.
In the company's show presented at Jacob's Pillow (from July 6-10, 2016) love was shown in a fractured state. The first act of the evening was composed of shorter pieces Gauthier had presented before, but which here seemed to suggest a narrative similar to Christopher Nolan's Memento, each a piece in a tale we were supposed to glue together. In Po Cheung Tsai's "Floating Flowers" for instance, we saw a woman blossom - almost literally - and encounter a new body with which she was unfamiliar. Itzik Galili's "Cherry Pink and Apple Blossom White" presented us with a playful courtship straight out of a Jacques Tati film, or a "Les Jeunes de Paris" sketch from SNL, all smiles and broad moves, the performers captured the circus-like experience of showing someone how much we like them.
John Inger's devastating "Now and Now" saw a love story told through the make-ups and break-ups, as the two performers played characters who almost tried to become each other only to discover they were renouncing their souls in the process. Cayetano Soto's "Conrazoncarazon" was much more lighthearted (its title is a play of words that means "no wonder, heart") finding picaresque undertones within its military aesthetic and Bob Fosse references.
If the first act hadn't been exciting enough, the second one consisted of Mauro Bigonzetti's "Cantata", a piece which saw the whole company in a piece that felt like Seven Brides for Seven Brothers Sicilian Style. Joined by live musicians and four singers, the company seemed to be staging the creation of the world on stage, with bodies colliding like asteroids, only to create moments that sparked with the very essence of life. It felt impossible to see what everyone was doing, which made the piece more enigmatic and seductive.