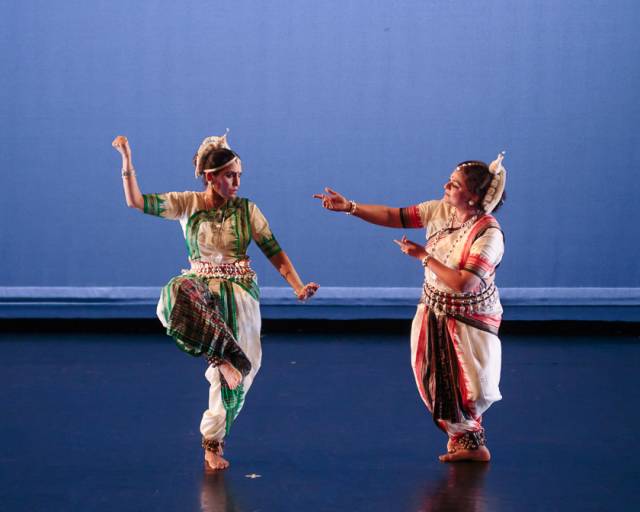 A festival created to provide a platform for emerging artists, the Jump on the DanceWagon Festival celebrated its fourth year of showcasing raw talent on April 15 and 16. Held at the Ailey Citigroup Theatre, this year's lineup featured work all across the choreographic spectrum. Two especially promising performing artists were Mala Desai, an Indian classical choreographer who practices Odissi, a classical Indian dance that dates back to the 2nd century BC, and Nicholas Jon Grubbs, a contemporary choreographer and graduate of New York University's Tisch School of the Arts.
In her first of two duets titled Sanjeevani, Mala Desai and her dance partner, Juhi Pant, take the stage wearing vibrantly colored sarees, adorned with a variety of ornate jewelry, including silver pieces, ankle bells, and round crowns made of reeds called mukoot, all customary to Odissi. At the start of the performance, Desai educates the audience by introducing the basic poses used in Odissi, and what they reference in Hinduism, as Pant models them. Through intricate stomping and footwork, the two dancers mirror one another at diagonals, creating a visually stunning inverse of each other's movement. Displaying rich and detailed arm and hand movements, they emulate the picking of flowers and the playing of flutes with expressive faces. As a footnote in the program, Desai explains that sanjeevani is regarded as the magical herb that can end all pain in Hindu mythology, and that similarly, Indian classical dance eases the afflictions life brings.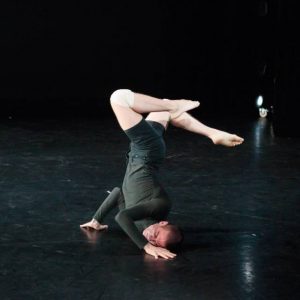 Nicholas Jon Grubbs' piece, titled (lack thereof), starts as Grubbs sits in a chair downstage right, quietly playing guitar. From the audience, musician Philip Vachon makes his way onstage to stand in front of Grubbs, as the two share intense eye contact, indicating romance between them. They exchange places, and from here Vachon plays William "Smokey" Robinson and The Miracles's "You Really Got a Hold on Me", while Grubbs, wearing a black turtleneck tucked into black shorts, along with kneepads, collapses to the floor. Creating a moving depiction of how torturous an experience love can be, Grubbs mixes graceful ballet in slow splits and varied leg movement with the feel of being stuck to the floor. We experience force as Grubbs attempts to pick himself up and faces failings. A limb releases here, he rolls, is pressed down. Becoming wildly expressive, and thrashing, Grubbs writhes, arms bound behind him, engaging in push/pull with Vachon. The piece ends with Grubbs gently lifting Vachon from the chair, taking him center stage, and the two engage in slow dance, while Vachon still sings and plays guitar. Grubbs then moves to the chair, watching Vachon alone center stage.
In addition to these works, the Jump on the DanceWagon Festival featured supremely energetic choreography by the Victory Dance Project, who create works that are an impressive fusion of ballet, modern dance, and hip-hop. The Six Degrees Dance Company also performed innovative and soothing ballet to poetry by the Persian poet Rumi. An elaborate, inspiring, and emotionally rich showcase, the Jump on the DanceWagon Festival successfully offered a diverse and engaging collection of work.
To learn more about Jump on the DanceWagon and to support this festival in their years to come, visit their website at www.jumponthedancewagon.com.