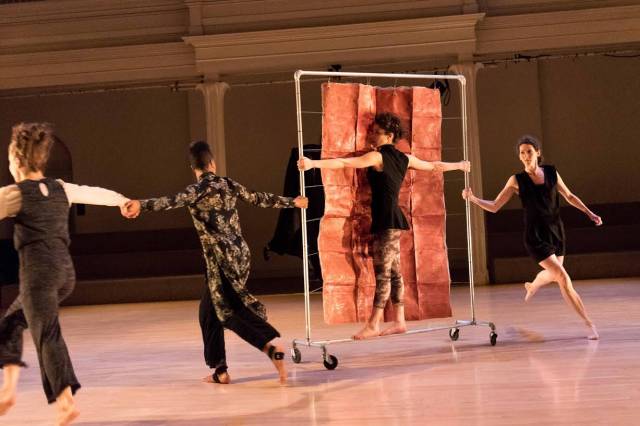 With over 30 years of experience with the New York City dance community, choreographer Vicky Shick is a master of calculated movement, and her latest show, Another Spell, is a testament to her profound capabilities. Showing at the Danspace Project in the East Village from April 14th to the 16th, Another Spell goes far beyond enchantment. With unrelenting precision and embodiment, Shick transforms St. Mark's Church into a tribute to the feminine form.
Six women—Lily Gold, Omagbitse Omagbemi, Jodi Bender, Donna Costello, Marilyn Maywald-Yahel, and Heather Olson, in varying combinations—combine traditional ballet with contemporary, geometrical movement, evoking circles, right angles, triangles, and diamonds. Moving together, the group forms clusters, synchronized and not, to create imperfect crystalline designs—familiar to nature, the body, and fashion. As they form structures like chemical bonds, bone knitting, and crocheting, we come to experience exquisite and delicate representations of intimacy.
Fascinating duets of threaded bodies occur in combination. In one, a dancer is behind her partner, gently clinging to her, both holding arms out with hands limp, in poised positions. These two then move together, finding the most ease. In another, a dancer presses her head against her partner's shoulder, running it down her arm to be held in her hand, before being carried offstage.
A multitude of female relationships are represented through this movement, at times suggesting queer eroticism and love, other times camaraderie, friendship, and support. One movement in particular seems to have a maternal edge, as one dancer holds another over the audience by the back of her shirt, and the held dancer hangs there, trustingly.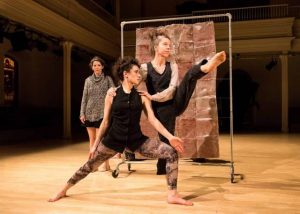 Moving as a group, the dancers unfold themselves upon one another. Bodies align, fitting like pieces: heads lock into hip bones, legs around legs, temple upon temple, all with the most incredible amount of care. Movement at times becomes pose, suggests classical statuary. Everyone in the group walks together as if on runway, with strong steps, then stops and falls. One of the performers hands cradles the nose of another. To say tenderness permeates much of the movement in this piece is an understatement.
To contrast, Shick also uses hard lines to create meticulous and rigid movement. Paired with music that is choppy and emulates digitization, a lack of fluidity is heightened, as Shick plays with keeping one part of the body stagnant and moving another. A dancer dead-weights her legs and lifts them with her arms to dictate movement. Another dancer creates a grounded rendition of a brisé, holds position, and is dragged across the stage by her arm. Through all this we experience the mystery of movement, a combination of nature and machinery—our modern world.
With recycled costumes and props from visual artist Barbara Kilpatrick, there is an effective addition of drama to the performance. Commentary on the stereotypically feminine is made through snapping, high clapping, a hand on the forehead suggesting woe, tragedy and falling to the floor. Stockings are pulled over heads to mush faces. Attitude, power, and a humorous wariness to the audience are successfully employed. With feminine grit and careful intricacy, Another Spell is a mesmerizing success, and what better stage than the sanctuary at St Mark's Church.