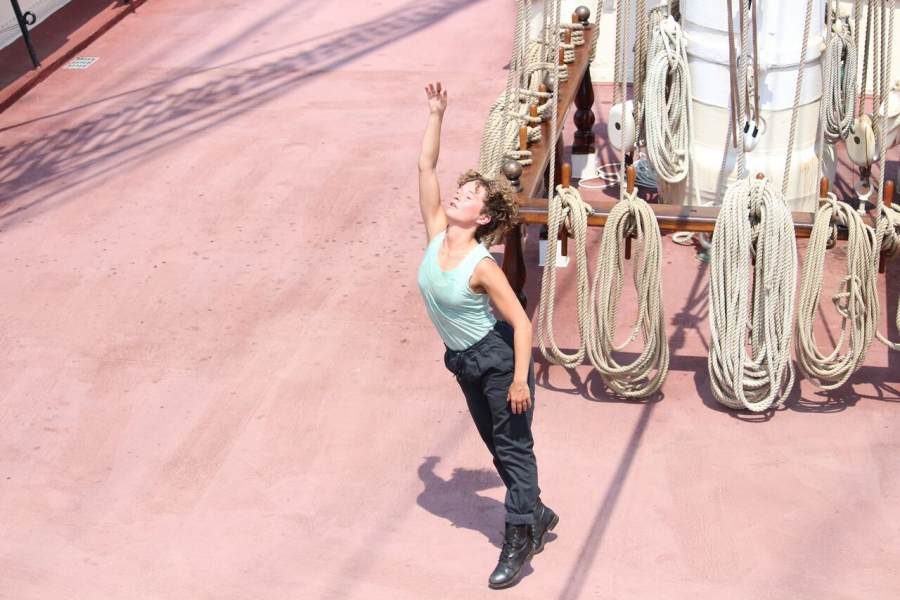 What's something you've always wanted to do but never have? Would you be willing to share that secret desire in public? During Secrets and Seawalls, a site-specific dance-theatre performance set aboard the 1885 cargo ship Wavertree at the South Street Seaport Museum, you might be asked these and possibly other questions. Maybe you'll learn a secret or two.
Created by Melissa Riker, Artistic Director and Choreographer of Kinesis Project dance theatre, in collaboration with architect Lee Skolnick and dancers Cassandra Cotta, Andrew Broaddus, Michelle Amara Micca and Zoe Allocco, Secrets and Seawalls is a fantastically unique and dream-like experience inspired by the devastation wreaked by Superstorm Sandy in 2012. Throughout the piece the dancers embody the storm and its aftermath, using their bodies to create wavelike motions, interacting with each other in various creative ways. Much of the dance movements seem Capoeira-inspired, jiving with Riker's martial arts background.
Taking advantage of the grandness of the Wavertree, the performers use the ship and its surrounding areas to full effect. They climb onto the rigging, disappear inside chambers, and balance atop platforms. They create a strange soundscape using playful noises and whispers. This is supplemented by the live music provided by a trio of musicians (Katie Down, Helen Yee and Michael Evans), who use a variety of instruments (violin, drums, harmonica) to subtly accompany the sometimes jarring, sometimes soothing movements of the dancers. There is a particularly meditative effect that the musicians evoke, especially with the dancers swaying and swelling with the ship's motions.
The costumes, by Asa Thornton, greatly add to the effect of the piece. Looking a bit like sailor uniforms, they use bits of old clothing sewn together in a ragtag manner. Thornton pieces together mismatched patterns and colors asymmetrically, giving it a post-apocalyptic look. The topcoats are shed in the second act, when the performers adopt a more informal and playful interaction with the audience whereby the aforementioned questions are asked and snacks are doled out.
While the dancers convey amazing physicality in a number of ways, what's most impressive is the composure they have to stay steady on a stage whose surface is not fixed and that sways and swells with the motion of the water. Incredibly, as I write this, the feeling of being on the ship has not left me. But those prone to seasickness need not fear; you'll get used to your sea legs soon enough. Secrets and Seawalls will transfix you enough so you won't even notice.