This year's DOC NYC features more than 100 nonfiction films from all parts of the world, all of which intend to open our eyes to realities near and far, in the process expanding our views and our ability for empathy. We're now living in a time in which art will undoubtedly be more important than ever, both as means for self-expression, but also as transcendental escapism, reminders that there is good and beauty in the world. These ten documentaries at DOC NYC, all about arts, culture and hope for the future, encompass that feeling.
95 AND 6 TO GO

In Kimi Takesue's moving documentary her grandfather becomes the unexpected star of both the film she's making, and also the screenplay she's in the process of writing. What at first seems to be an effort on her part to entertain the recent widower, soon becomes something much more profound, as she realizes how little she knows about the soul of this man. As he gives her provocative commentary on her work - and he truly doesn't hold back - he also exposes who he is, his fears, longings, sorrows, and his views on mortality.
THE BALLAD OF FRED HERSCH

"I wanted to be heard before I died" expresses jazz musician Fred Hersch, an iconic figure known not only for his musical proficiency, but for having been one of the first openly gay jazz musicians who spoke out about being HIV positive. This intimate portrait looks back at a life that was always filled with music (appearances by his mother are delightful) and the constant threat of death, after having made it through a 2-months-long coma we see him return to life with more optimism and high spirits than ever. To call this film inspirational might seem trite, but one can't help but admire Hersch's determination and strength.
Bert Berns remains one of the most important figures in popular music, even if not many people know his name. The songwriter behind "Twist and Shout", "I Want Candy" and "Piece of My Heart" lived an exciting life that was cut too short by cardiac disease at the age of 38. Directed by Bob Sarles and Brett Berns' (Bert's son) the film is the most comprehensive biography of the composer/producer to date. It chronicles his romantic relationships, the inner demons that tortured him through his life, and his exciting period in pre-Castro Havana where he became inspired by the afrobeats around him, which would influence some of his best works.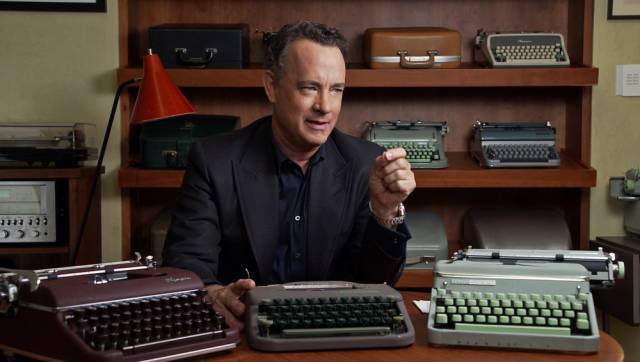 CALIFORNIA TYPEWRITER

If at first a documentary about the importance of typewriters sounds almost like a Portlandia sketch, soon enough director Doug Nichol proves that he has come up with something quite profound. Besides being a history of the title repair shop, the film provides viewers with a history of a machine that even now remains influential (ever wonder why the QWERTY keyboard came to happen for instance? Or why? For that matter) and even reaches philosophical grounds as figures like John Mayer, Tom Hanks and Sam Shepard, all make strong cases about how their typewriters helps them reaffirm their permanence, challenges their creative spirits and connects them deeper to people around them.
CAMERAPERSON

Kirsten Johnson's free form work of art breathes with a vitality rare in cinema (fiction or not), a self-portrait in collage form, made from bits and pieces she's collected from documentaries she's shot for others, the film makes a case for how we all inevitably discover ourselves in art. Johnson's imaginative editing invites viewers to detach themselves from the burden of chronology, to enter a world in which time is a canvas waiting to be filled with the color of our memories, hopes and dreams. It's highly esoteric, but also strangely one of the most pragmatic works of 2016. A masterpiece.
Even though we mostly know David Lynch for his game-changing, provocative films, he is a multidisciplinary artist who started out as a painter (let's also not forget he's an accomplished musician) and so directors Jon Nguyen, Rick Barnes, and Olivia Neergaard-Holm set out to make a film about Mr. Lynch that doesn't rely on clips of his films to tell a story. Instead, the artist is captured in his studio where he works on a few non-cinematic projects and looks back at his life. The words that come out of his mouth are as dazzling as anything he captures with his brush or lens.
Jay Cheel's touching documentary follows the paths of two men who are keen on creating time machines. One of them, obsessed with the 1960 film, has decided to create an exact replica of the machine that will serve to his kids as a reminder of his passion and existence, the other follows a scientific road and intends to rescue his late father using theoretical physics. A haunting account of the influence fathers have on their children, the film also makes a case for how cinema itself is a time machine.
Director Claire Simon received unprecedented access into France's notorious La Fémis - perhaps the most prestigious film school in the world - and chronicles the months-long admission period in which thousands of students apply for the 40 available slots. Simon follows a Frederick Wiseman approach to capturing how the institution seeks to attain humanity within its complexity, and we see the selection committee enter arguments championing potential students they feel will perpetuate the legacy of the school while allowing it to grow. The plights of the individuals featured in the films would make for a fascinating, even more expansive docuseries.
"Can you simulate life only using pen, ink and the words in the dictionary?" wonders author Michael Cunningham in this vastly entertaining and illuminating documentary by Kirk Simon. Beyond serving as a history of the famous award, Simon uses the film to discover what previous winners think about writing. The documentary reveals many of them remain surprised their works were selected to take the top prize and actually claim the award served as an inspiration for them to keep working, rather than rest on their laurels. Paula Vogel explains upon winning her own Pulitzer and wondering what to do next, previous winner Edward Albee told her "roll up your sleeves and write the next play". Other highlights include readings of excerpts done by stars like Natalie Portman, Martin Scorsese and Helen Mirren, who fills a passage from Long Day's Journey Into Night with more life than the recent Broadway revival.
VERSUS: THE LIFE AND FILMS OF KEN LOACH
Imagine to be so committed to your cause that you will go out of retirement just to keep fighting the good fight. That is precisely what Ken Loach did when the Conservative Party took over his beloved England, forcing him to grab the camera one more time and make a film to condemn them. That the film turned out to win the Palme d'Or is just the icing on the cake. Director Louise Osmond gets exactly why Loach's films are so thrilling, despite their "small scale", she studies his techniques, gathers evidence about what makes his actors so compelling, and gets quotes from some of Loach's closest collaborators to make a compelling film about one of the true masters.
For more information on these titles and others visit DOC NYC's official website.