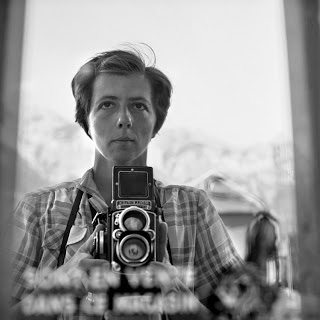 If Hollywood could have its way, the ending of "Finding Vivian Maier" would have the protagonist smiling widely as she received a standing ovation to celebrate her brilliant, unsung career. Vivian Maier's life story however is so poetically tragic that to approach it through fiction would be a job best reserved for the unsentimentality of a few German and French filmmakers who would be able to find some meaning in the nihilistic irony of her life. Maier was a French-American whose life was devoted to being a nanny; she took care of other people's children until the time of her death in 2009, time by which she had become so impoverished that she was being supported financially by three siblings she'd looked after during their childhood. It also turns out that for decades, Maier had been taking thousands of photographs, which she never developed, but that ended up comprising one of the most breathtaking photographic oeuvres of the twentieth century.
The documentary directed by John Maloof (who first discovered the undeveloped negatives) and Charlie Siskel chronicles the discovery of Maier's lifelong work as a street photographer and follows their attempts to trace her history. Traveling in Chicago, New York and France, the filmmakers unveil the portrait of an enigmatic woman who suffered abuse and developed mental illness, making the artistic value of her work even more impressive. Interviewing people who knew her and analyzing the kind of images that intrigued her, the film shows us the portrait of a loner who possessed a very dark side to her soul (she would've been the kind of woman Mary Poppins sent flying away upon arriving at the Banks household).
Because she wasn't enchanting, attractive or that nice to begin with (an interviewee refers to her as "the strange French lady") the film succeeds at seeing beyond the "magical nanny" angle and explores the way in which obsession leads to creation. Maier was a hoarder who carried boxes with her "life" wherever she went; despite the common convention that she really had no life to begin with. What is more fascinating is how the film draws unexpected parallels between Maier and Maloof; like his subject, the filmmaker seems obsessed with collecting random artifacts and through his obsession with preserving her work the documentary suggests that Maier's work, besides inspiring his art, also allowed him to find a kindred spirit, even if they would never be able to meet in this life.