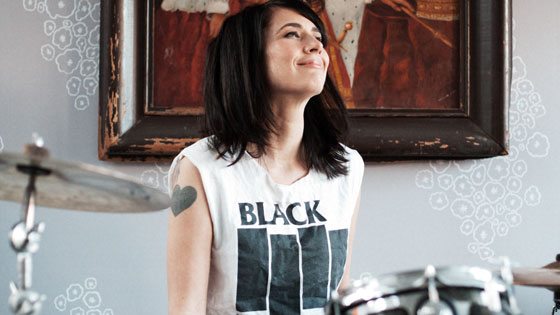 The feminist movement is stronger now more than ever thanks to the global connectedness provided by the internet. Many more voices now have a forum to share stories and hopefully effect change on a world that for some reason still treats women as second best. In the 1990s, the net was smaller but the movement was still growing. Third-wave feminism was making its way into the social consciousness, and one of its leaders was Kathleen Hanna.
Kathleen wasn't a politician in a pants suit, reservedly speaking at a podium hoping that her male counterparts would listen. Kathleen was a punk rocker with an in-your-face attitude that was impossible to ignore. She stood proudly on stage, often wearing nothing more than a raggedy T-shirt and panties, and sang (screeched) lyrics that forced a male-dominated genre of music to stand back and take notice. "Girls to the front" was a common command you'd hear at the concerts of her band, Bikini Kill. In this way she literally handed control to the women of the audience, forcing the men to stand out of the way and not harm them in a stupid mosh pit.
"The Punk Singer" by Sini Anderson uses archival footage and modern interviews with Kathleen and her admirers to tell the story of this musical and cultural movement. We begin in Olympia, Washington where Kathleen first forms Bikini Kill as a means to spread feminist ideas. We learn about her early life, her impact on Kurt Cobain of Nirvana, her relationship and subsequent marriage to Adam Horovitz of The Beastie Boys, and most importantly how she used music in a way that changed the world.
The technical execution of the songs Kathleen wrote is not nearly as important as the words they expressed, and the way she expressed them. If one gave her music a cursory, half-hearted listen, you'd hear nothing more than a cacophonous clanging of instruments with a shrieking lead singer. But there was a method to every second of madness of Bikini Kill, her solo project Julie Ruin, and her later band Le Tigre. The very fact that Kathleen and her bandmates were touring and spreading their fervent beliefs through punk was groundbreaking.
The vocal Kathleen stopped performing in 2005, and nobody really knew why. The final act of "The Punk Singer" covers Kathleen's sudden silence, and her journey to make her voice heard once again. By interviewing Kathleen and others including punk legend Joan Jett, Anderson allows as many voices as possible to tell us Kathleen's story, and why we should care about it. We are given intimate access into Kathleen's personal and professional life, allowing us to see her as both an icon and as an ordinary human being.
"The Punk Singer" is an aggressive good time, using the passion of punk rock to chronicle the life of an important cultural figure. Those who have never heard of Kathleen Hanna (like me) will find themselves cheering her on and wanting to stand up beside her in the fight for female equality.
"The Punk Singer" makes its NYC debut at DOC NYC on Saturday, Nov 16 @ 7:15 pm, SVA Theater. Kathleen Hanna will be in attendance.
"The Punk Singer" will begin its theatrical release on Nov 29 at the IFC Center in NYC. It will be rolled out nationally shortly after.