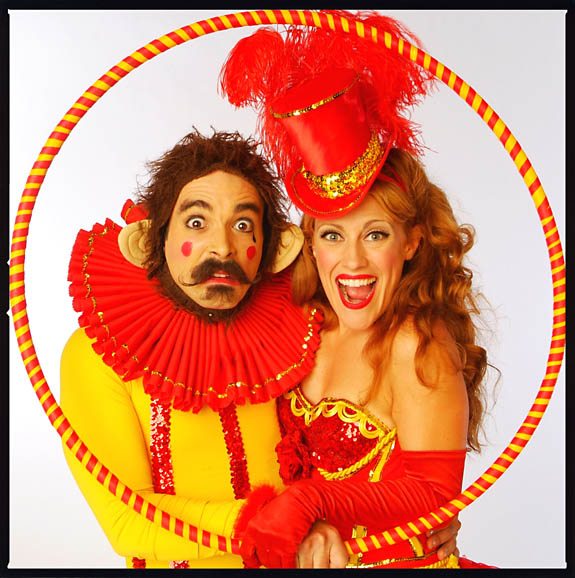 Us, Naked: Trixie & Monkey is a film that lives up to its promises. The feature documentary follows husband and wife burlesque performers Trixie Little and The Evil Hate Monkey over the course of several years as they build their career. As two large personalities, living and working together on a strict budget, they constantly run into emotional roadblocks. Roadblocks that director Kirsten D'Andrea Hollander handles beautifully.
The film lives in two realms: the glittery world of performative romp and the very real, very difficult, world of artist survival. Hollander plays up the dynamic well; because burlesque is such a fantasy, seeing Trixie and Monkey out of costume, in bed, driving, fighting, and just, well, living, feels especially like we are being let into an exclusive, secret world. Hollander puts us exactly where we're not meant to be. This is the dynamic that works for so many E! True Hollywood Stories. But with Us, Naked, there is no contrived hype, no voyeuristic intent, no tabloid-esque assertions, just the very real relationship between two people, and it is just as compelling.
However, don't think for a second that I am describing your typical "behind the mask" film. As is so fitting for a burlesque doc, Us, Naked is high camp with jazz hands at every turn. Smash cuts, cute graphics, cartoonish sound effects and peppy musical interludes bring the filmmaking to the level of Trixie and Monkey's performances: fun all the way, or as Monkey describes it, "Cirque de So Stupid." Much of the film is spent watching the couple perfect these performances, particularly with two years in circus school. We see how hard they work to make their act appear simple. And it seems that Hollander cut the film with this same principle in mind. It takes an enormous effort to make art both silly and effective.
The emotional impact comes from the complexity of their relationship. Trixie and Monkey fight all the time. They have different opinions, different act ideas, and different ways of communicating. Despite their differences, the two have an "us against the world" kind of love. No one else could possibly do what they do or support each other in the same ways.
An especially difficult moment comes when, after performing independently for a while, Trixie and Monkey are competing in separate categories for the Las Vegas Burlesque Awards (the highest burlesque honor). Though Trixie works diligently for months on end, building a giant cake with a deer-head to pop out of, ultimately it's Monkey who receives the recognition. But again, the power of love prevails. Trixie is happy for her king-jester and we have perhaps the most beautiful moment of the whole film: the couple kissing and spinning in front of Vegas lights — again, high camp performance that pays off. It's only fitting that the film should end with them having made it to New York City, their beacon of success, doing handstands at dusk on the Brooklyn Bridge.