The Film Society of Lincoln Center and The Jewish Museum present the 24th edition of the New York Jewish Film Festival from January 14-29. This year the festival features extraordinary works by renowned filmmakers like Amos Gitai (Tsili) and exciting new voices like Maxime Giroux (Felix and Meira), as well as lineup dedicated to guest Jennie Livingston, who will be introducing a screening of her iconic documentary Paris is Burning on the 17th. In total the festival features over two dozen offerings including a Midnight Movie (Joel Silberg's Breakin') and a special revival screening of Mike Nichols' The Birdcage. We got a preview of the main slate and here are the five films you simply can't miss.
Niels Arestrup stars as a world weary Parisian detective who has probably seen way too much. His life's purpose seems to be reinvigorated when he meets a mysterious young man (Lior Ashkenazi) who harbors endless secrets of his own. Director Yossi Aviram expertly crafts a film that lures you in with the promise of a mystery, but turns out to be more of a spiritual exploration about our place in the world. Aviram takes Hitchcokian risks that pay off in subtle ways, and the great Arestrup has rarely been more compelling to watch.
Should works of art made by totalitarian regimes be shown to the public? Are they even "art" for that matter? Those are the questions at the center of Felix Moeller's provocative Forbidden Films, which takes a look at some of the Nazi propaganda films that remain banned from the public for their antisemitic content. Interviews with scholars, students and general public who have seen the films reveal contradictory positions about their worth and their historical importance. Moeller smartly removes himself from the equation and leaves all the questioning to us. Some will leave the film glad that these movies are kept in vaults, for others, the film will only serve as a good old fashioned tease.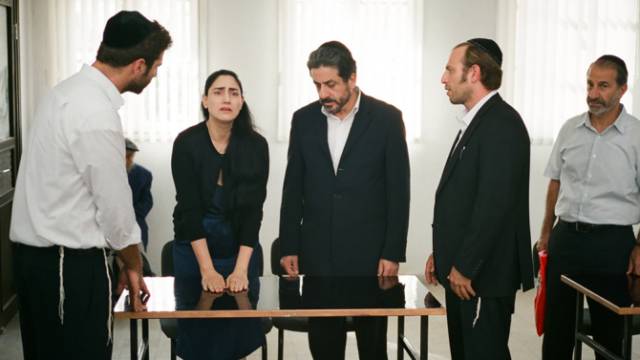 Gett: The Trial of Viviane Amsalem

Ronit Elkabetz and Shlomi Elkabetz direct the Golden Globe-nominated drama inspired by the true story of a woman who spent half a decade fighting for a divorce her stubborn husband refused to grant. According to Orthodox Jewish law, the man needs to give his full consent and Viviane's (Ronit Elkabetz) husband Shimon (Sasson Gabai) simply refuses to let her go, even if they no longer live together and it's obvious that they don't get along. A parade of witnesses offer their testimony and must come to terms with the inconsistencies and paradoxes of the system in which they live in. While the film is highly critical of the way in which women are treated under an arbitrary legal system meant to support the righteousness of men, the filmmakers are much too clever to let it become a morality tale, instead they use the film's structure to comment on the exhausting repetitiveness of legal processes (something seen in the similarly gripping A Separation) and end up delivering something that plays out more like a farce.
The works of David Breuer-Weil can be seen all over the world, his massive sculptures and violent paintings, once were the hottest talk in the art world, until their creator suddenly decided to remove himself from public life and dedicate himself to a life of meditation and quiet creation. Directors Guy Natanel and Annie Sulzberger were granted access into the life of one of the world's most elusive figures, the result is a little gem of a film that reveals Breuer-Weil's art is carried inside.
Once upon a time America's biggest star was a woman who looked nothing like modern pop divas, she had a healthy appetite, for food, humor and men, had a brassy voice, and had no regards for political correctness, her name was Sophie Tucker and William Gazecki's thoroughly enjoyable documentary suggests that we would have had no Bette Midler or even Madonna, if Sophie hadn't been around first. The film chronicles her entire life, from her very humble beginnings (she was born in Russia in 1887) to her meteoric rise, revealing a woman who earned her place in the business through hard work and pure talent. This might be the single most joyful film at this year's festival!
The New York Jewish Film Festival January 14-29 at The Film Society of Lincoln Center. For tickets and more click here.