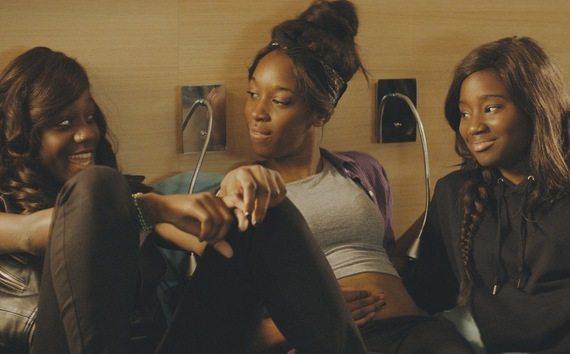 Céline Sciamma's Girlhood is an acutely observed coming-of-age story set in the projects of a Parisian suburb, where we see 16-year-old Marieme (Karidja Touré) go through the trials and tribulations that the movies usually reserve for upper middle class white males. Sciamma chronicles Marieme's personal journey through vignettes in which she interacts with the people who help her define who she is. When the film starts, she is part of an all-female football team, and we see her cheer along with members of the rival team, in the following scene Marieme walks home with a group of girls who go quiet as they hear a group of boys approaching. The suddenness of their silence speaks volumes about the way in which the girls are oppressed at home, with Marieme having her own personal torturer in the shape of her older brother Djibril (Cyril Mendy), who in the absence of a father has assumed the position of defacto "man of the house" provoking fear in his sisters.
Although we don't see the football team again, the opening scene pretty much sets the tone of the film, as Sciamma reveals that in order for these young women to blossom on an individual level, they must first discover what is it that makes them special as a group. Considering that her grades are too low to move on to high school, and that life at home is less than ideal, it makes sense that Marieme is attracted by the idea of joining a gang of tough-looking girls with a careless attitude, led by the charismatic Lady (Assa Sylla). The girls, who at first seem to be interested in bullying Marieme, unexpectedly turn out to be her protectors and confidantes. Soon they are shoplifting, looking for fights in subway stations and hanging out in hotel rooms, eating pizza and drinking cheap booze, as Rihanna blasts on their speakers, reminding them that, despite the cruelty of real life, in this makeshift world they've created for themselves they can "shine bright like a diamond". A thing of beauty shown by the director in uninterrupted takes in which the camera lingers perhaps a little longer than it should have, as if trying to hold on to a memory so precious, the characters are terrified of losing it if they look away.
Marieme's life journey is marked by different hairstyles and drastic changes of clothes, shown by Sciamma with a blunt matter-of-factness that makes 80s makeover montages seem like the most dated plot devices in history. And as we follow her joining yet another clique, this time a group of mostly-male drug dealers who use her as a salesgirl, the film purposely loses something that made it special. By removing Marieme from the sisterhood in which she blossomed and throwing her back into a world where she has to pretend to be something she's not in order to be accepted, Sciamma proves her point; her nod to "girl power" as awe inspiring as it is thought provoking.