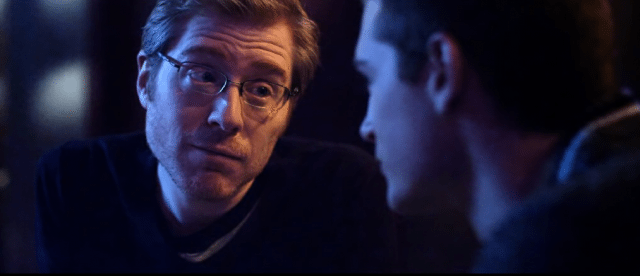 In Grind writer/director Zachary Halley poses the question: do we ever really know who we're talking to? Using a Grindr-like app to frame his story, he introduces us to the awkward, but brilliant Vincent (Anthony Rapp) and model Thane (Pasha Pellosie) two friends who engage in Cyrano de Bergerac-like practices when Thane realizes men are only interested in his good looks, but care about what he has to say when Vincent pretends to be him online. Thrilled by the world he discovers, Vincent begins to fall into the dark side, as a menacing serial killer is targeting men around them. Toted as Grindr-meets-Sweeney Todd, Grind is a clever short film that uses catchy songs to deliver a timely story about what it's like to crave a connection in modern times.
Halley and company have assembles a fabulous cast that make the film's half-hour running time endlessly enjoyable. Showing enviable technical prowess behind the camera, Halley delivers one of the smartest, timeliest queer films in recent times, which is why musical theater lovers and cinephiles alike should watch it upon its release on October 1st. We spoke to the director about the film's origins, Sondheim and the nonsensical rants of a new pop star.

What inspired you to write this story?
The lyricist, Selda Sahin and I, were working on a different project and it wasn't quite clicking. It was probably something that we were too young to write and in the downtime, she was fascinated with Grindr and she would grind as me, and I shouldn't admit this, but I actually met some of them. So she suggested we write something about this, but it sounded like something no one would take seriously to me. So we toyed with the idea and spun a story with a Roxanne thing going on...and then I did this gig in Moscow and when I was there I was grinding, using Google translate to grind in cyrillic, and I got a message from someone warning me to be careful because there was a serial killer targeting gay men through Grindr. I threw my phone! I was so shocked! But the more I thought about that I decided to pitch the idea to make a thriller musical, or a musical about a psychopath, but I thought no one would want to do it. Cause there are not very many dark musicals that are taken seriously...there's Sweeney Todd and Dracula I suppose. To their credit though they thought it sounded fun and it would be a challenge, so I wrote a short story, researched psychopathy and then we wrote the music based on that. It was really important to us that the songs were pop and would stand alone, but at the same time they had to serve the story. (Laughs) It wasn't definitely based on any personal experience…
Did you at any point think it would be a good idea to skip the songs and just make a short film?
That's a funny thing too. I shared the short story with people I trusted and the opinion was mixed, a lot of them thought it wouldn't work as a musical, but the more we talked about it, the more I started to believe the music would be integral. In the research I'd done about psychopaths I realized that most depictions of psychopaths are very bad...Hannibal Lecter is good but everything I read for example suggested something like Dexter was inaccurate. So I wanted to show someone without emotions, someone whose emotional universe is different from anyone else's, and the music became key to showing this. Music is inherently emotional and it served the purpose of telling the feeling audience what we wanted to communicate from a non-feeling character. So I thought, how does anyone write anything about psychopaths that's not a musical? Also, Anthony Rapp is an amazing actor and he did a fantastic job, because he communicates so much of the coldness and needs of the character, but also everyone loves his quirky voice.
I'm not sure when you shot this but I got the impression that Anthony was kinda playing off the same character he plays on IF/THEN where he's the supporting guy, who never feels like he's good enough. Is that just me?
It's funny. We shot this before IF/THEN but I think it was all kind of happening at the same time. Very shortly after we wrapped, he did another movie and then went into rehearsals, so it was kinda one season. I will admit I haven't seen IF/THEN so I can't comment too much on this.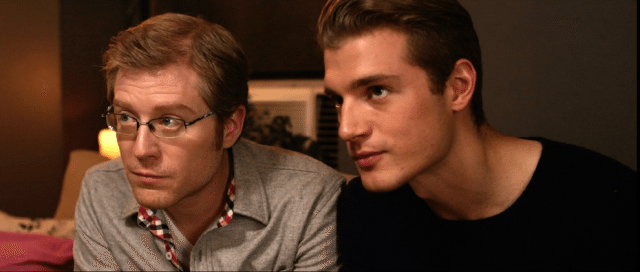 Can we discuss how the product is being consumed. Before you had the movie or the show and they released the soundtrack or cast recording later, but your film is peculiar because the songs have been out for a while, even if the film has only been playing in festivals. Ideally how do you want people to approach the piece? Should they know the songs? Watch the movie first and then get the songs?
It's interesting, I would love it if people bought the album, fell in love with the songs and then watched the movie. I think they'd be delighted and surprised in how we use the songs in the movie, which is an intentional effect. People who've seen it in the festival circuit often say they want the album and they're gonna have a different experience, because they already know what happens in between songs in the movie. Broadway traditionally, had always been pop songs, Rodgers and Hammerstein's "If I Loved You" for example, is a great song whether it's Barbra Streisand who's singing it or if it's someone doing it in a little cabaret concert or when the characters in Carousel sing it, and it fits perfectly in that moment. When you hear these characters saying "if" instead of "I loved you" and it's perfect. I'm gonna get in so much trouble for saying this but everybody's trying to out-Sondheim Sondheim now, so they're all kinda too clever by half. Sondheim doesn't write pop songs, his songs don't make much sense outside his shows...maybe Barbra singing "Send in the Clowns" but even that has people going "what the hell is song about". Obviously he's a genius, but only he can do what he does, but because everyone admires him so much, they're trying to be him. And I hate to say this, but I feel this has taken music theater off the charts and out of the popular zeitgeist for as long as he's been writing. People used to look to Broadway for pop songs, Sinatra did it...obviously there's a push for that now with all the jukebox musicals, so it seems like people are used to listening to that kind of music onstage again.
Going back to the film, do you think there will be many people who won't even know what Grindr is? Or that conservative people for example will see this and grab only the bad elements out of it and start saying dating apps are used to find people to murder?
The film is definitely not meant to be a morality tale. It should be something delicious to listen to and thrilling to watch. Hopefully it speaks deeper human truth, if there is such a thing in a short film. The film has a scene in the middle that's designed to catch any straddlers who don't know what the app is about, but the more we watch that scene, the more it feels like we don't need it in the sense that now there's Tinder, so straight people know about Grindr, the awareness is really high. The scene in our movie works because Claire Coffee is so good. It's interesting, we have gotten some pushback with people asking why we would discuss this app in this way, as if people were surprised that the gay community has something that helps them hook up easily. I was raised Mormon and I think it's silly how puritanical people can be about sex and sexuality and what people do. I would say that 99.99% of everything going on on Grindr is fun and legal (laughs). It's a way people meet, I feel people who oppose these apps are just sweeping under the rug a situation that's out there instead of talking about how to be safe. The problem isn't Grindr, the problem is people, and this would be the same whether they met at a bar or wherever...if anything that's what we're trying to comment on, how it makes it easy not to connect to someone ironically, when it's supposed to help connect us all on this device. It's the eternal problem, finding "the one"...finding someone who wants to stay the night.
I brought this up because I'm interested in your opinion about Sam Smith's recent statements about online dating being bad. After all he's supposed to be a role model for gay youths…
He's being ridiculous. To me it's the most tiresome form of slut shaming, so what if he doesn't use it? I met my future husband on Grindr and more and more people meet that way. People's priorities are very screwed sometimes...
Grind will be available to stream here on October 1.