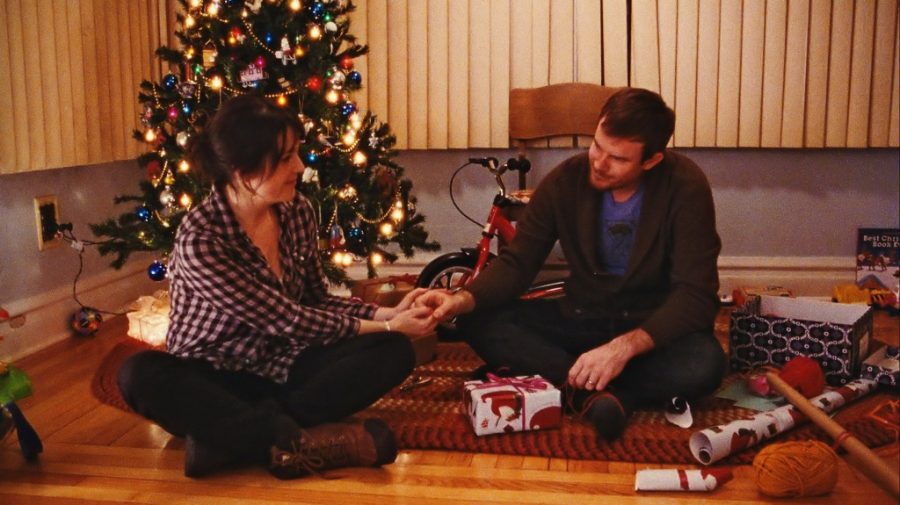 Producer, director and mumblecore stalwart Joe Swanberg seduces us this summer with his latest offering 'Happy Christmas', and once again he has done both himself and the genre proud. Jeff (Swanberg) and wife Kelly (Melanie Lynskey) live happily together in the Chicago suburbs with their two year old son. Jeff heads out to work each day and Kelly seems happy enough to have left her writing career behind to take on her role as a stay at home Mom. Then just before Christmas, Jeff's little sister Jenny (Anna Kendrick) returns to Chicago after a bad break up and proceeds to set up camp in Jeff and Kelly's tiki-themed basement.
What follows is a sweet tale of familial bonds and reclamation of individuality. Jenny, as with the aftermath of any break up, careers off the rails ever so slightly causing tension within the household. She starts drinking, smoking pot and is generally a facetious house guest. A wild hangover causes her to sleep through a babysitting appointment, which introduces her to Kelly's smitten fill in babysitter and pot dealer (Mark Webber). This helps Jenny take her mind off her previous boyfriend, while her friend Carson (Lena Dunham) helps ease her back into Chicago living and the single life. At the same time Carson unwittingly helps form a connection between Kelly and Jenny. This bond soon results in the three girls penning an erotic novel together, producing some of the films finest and most comical improvisational scenes.
"Happy Christmas" is a simple, no frills, and well-shot film. Production is minimal, as is the scripting, which sets this film apart and gives it the signature Swanberg feel. The soundtrack is sparse creating a real fly on the wall effect, aside from one particular track which is played numerous times by various characters throughout the film - Joel Alme's "If You Got Somebody Waiting".
Though they get off to a rocky start the characters grow together and blossom throughout the story to produce a heartwarming tale of life, love, acceptance and the intricacies of relationships, whether they be familial or otherwise. The cast is well suited and their on screen rapport and relaxed demeanor is a delight to watch, including the two year old son who is ridiculously cute, hilarious and a major scene stealer even at this young age. A beautifully honest and inspiring film all round.