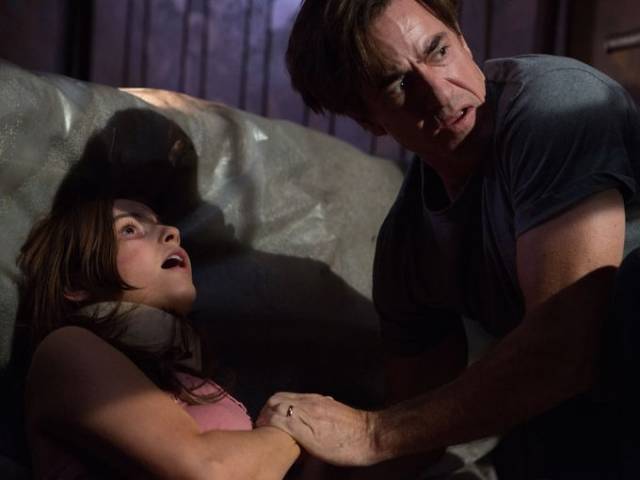 The first two Insidious films succeeded in providing calculated terror to an audience eager for more than just cheap scares. Insidious: Chapter 3 upholds this tradition and then some. Leigh Whannell, first-time director and screenwriter of the first two chapters, has crafted the scariest film in the series. This installment takes place years before the events of the other films and centers around Quinn Brenner (Stefanie Scott), a 17-year-old aspiring actress who becomes haunted by a demonic entity after she attempts to reach out to her deceased mother. This sets the stage for fan favorite psychic Elise Rainier (Lin Shaye) to enter the fray, using her special abilities to aid Quinn and the Brenner family (Dermot Mulroney and Tate Berney). Shaye is at home in this role and a joy to behold as she does combat for the young girl's soul.
Despite some throwaway characters and unresolved side plots, fans will love Insidious: Chapter 3 as Leigh Whannell has further expanded upon the mythology of the Insidious world. Many familiar locations like Elise's reading room and characters such as comic relief assistants, Specs (Leigh Whannell) and Tucker (Angus Sampson), are featured in the film. This prequel also serves as a quasi-origin story to Elise Rainier, unveiling her motivations and previously unknown connections to the demons that exist in The Further, an alternate plane that exists between heaven and hell. The new demon introduced, The Man Who Can't Breathe (Michael Reid MacKay),may be the most terrifying one yet and Joseph Bishara returns with another unsettling score. If there was one element from the previous films that is left to be desired it's the absence of the Lambert family (Patrick Wilson, Rose Byrne and Ty Simpkins).
Insidious films have always been harsh to their respective protagonists but you can't help but feel bad for Quinn Brenner as she gets absolutely pummeled in this film. It's an accurate reflection of how the film treats its audience. This film is sadistically cruel in the best way possible for a horror film. Whannell refuses to let the audience off the hook, unleashing upon them one dreadfully tense sequence after another. There is one particular sequence taking place in Quinn's bedroom that will have you squirming in your seat with fear. The Insidious films are best viewed communally and this one is no different. There's something incredible about everyone in a movie theater holding their breath before a scare and then collectively gasping and giggling with delight when it's over. Insidious: Chapter 3 is a film that not only delivers on this experience but takes the terror to a new suffocating level.