Interview: Cartoonist Edward Sorel on Capturing the Beauty, Elegance and Courage of Mary Astor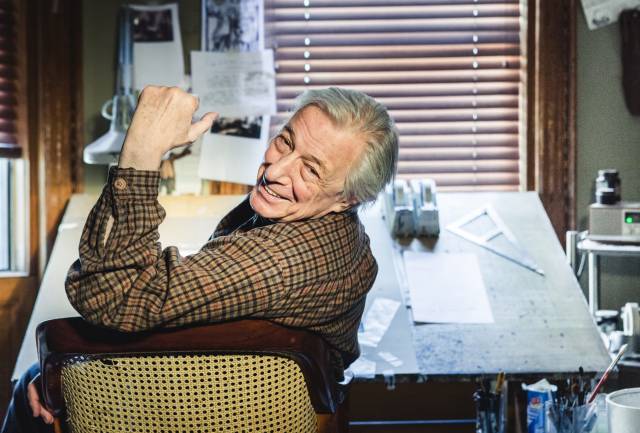 Home renovations are no fun, and even if we all dream of finding a buried treasure during the process, famed cartoonist Edward Sorel actually found one when he moved into a rent controlled apartment with his new wife in 1965. Upon tearing apart the rotting linoleum he found a collection of tabloids from 1936 that dealt with the scandalous Mary Astor. Yes, the same Mary Astor who played Judy Garland's wholesome mom in Meet Me. in St Louis, upon discovering what was billed as the "great American sex scandal of 1936", it would take Sorel more than four decades to put it into a book complete with evocative illustrations and delightful text. Mary Astor's Purple Diary is one of the best books about Hollywood to come out this decade, a great read for film history buffs, that is even more relevant in this era of rampant misogyny.
Sorel himself summed up the plot for me, "Hollywood star Mary Astor kept a diary when she was married to her second husband, in it she listed all the men that she was having affairs with. Apparently her marriage went bad rather quickly, and she kept track of all the men she was sleeping with, he found the diary while they were married and used it to blackmail her into giving him all her money, and the house that she had bought, but also custody of their child. After she obtained her divorce she decided that she would sue him for custody, and that's when he used the diary to prove that she was an unfit mother". We also spoke about some of the challenges he finds whenever he's drawing, the timeliness of the book, and why he uses classic Hollywood as an escape.
What was the hardest part in capturing Mary Astor when you drew her?
It's always impossible to draw beautiful women, the reason they're beautiful is because their features are symmetrical, they all look like versions of a Greek statue. So I had the same trouble drawing Elizabeth Taylor when I had to caricature her when she was popular. Mary Astor was a real problem, she was just perfect. The only thing I could exaggerate was her chin, she actually had a very ordinary chin, but there was a slight forward something to it that I could work with. I also made her eyes a bit larger than they had to be. She was very difficult to do, in addition to that she kept changing her hairstyles all the time, she didn't have a signature hairdo.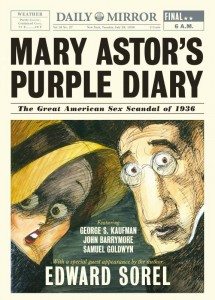 In your illustrations she always looks so glamorous, even when she was in distress she never looks disheveled.
Well, she never did. She just had a Patrician look to her, her father made a fuss about her enunciation, he was a German who had come over as a young man and was determined his daughter needed to speak perfectly, he kept her from children her age, so she developed a speech that was unlike anyone else's. Her real name was Lucile Vasconcellos Langhanke and one of the reasons the studios gave her the name Astor is because they associated her over enunciation with upper class society. So they named her after the famous Astors, who decided who the most eligible people in society were.
We never saw these classic Hollywood actresses nude, and the image we see after we open your book is of Mary Astor in the nude. Was this a difficult illustration?
For me it was because I was always lousy at life drawing. I went to art school at a time when drawing was considered old fashioned, by the time I went to the High School of Music and Art they were into abstraction, and by the time I went to Cooper Union to study art, the New York school was about everything except drawing, so I had to learn it on my own after graduating. No one taught life drawing, so it's always been a problem for me. I'm a prisoner of reference material, and there's very little reference material for nude figures doing anything interesting except lying or sitting. That image you speak about couldn't be the cover because if you have a naked lady on the cover they won't advertise your book, a friend of mine was reading the book on an airplane and the woman next to him saw the naked lady and moved her seat.
You've mentioned before that when you started working you wanted to find an apartment so you could get laid…
It wasn't just to get laid, I also wanted to get away from my parents.
That's true. Throughout history men have been allowed to enjoy sex in a way that women haven't. How much of writing the book had to do with you trying to give Mary her libido and desire back?
What really drew me to Mary Astor,besides finding newspapers describing her trial in Los Angeles, was her memoir which was so well written, witty and wise. She was self denigrating, witty and I liked her as a person, so then started to see her movies whenever they were show, I read the biographies of George S. Kaufman who was at the center of her trial.
What's scary about the trial is that we still see women being blackmailed by people who threaten to expose their private material.
The trial was an international scandal, it was reported everywhere, it wouldn't have been such a scandal except that Kaufman was the most successful playwright on Broadway in the 30s and 40s, Mary Astor prior to the trial was merely a featured player, but this trial changed her career.
In the book you make a case for how she could've been a star but chose to play supporting roles to have a longer career. In the American dream version of acting, everyone wants to become a star, not a supporting player, so how do you think that her business savvy notion of preferring a longer career goes against what most people think of as the American dream?
Most people don't have the awful father that she had. He brought her to New York to act in movies, and later moved to Hollywood, he put money above all other criteria. Her first lover was John Barrymore who took her virginity when she was 17 years old, and made her his co-star, he was genuinely in love with her even though she was 41. Her  father would not allow her to co-star with Barrymore because it didn't pay enough, part of this mercenary attitude toward acting rubbed off on her, she decided to be a featured player because she wanted to have a long career and she was making as much money as stars. She did no less than six movies a year with Warner Bros.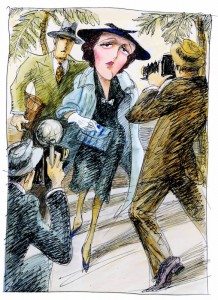 I love the part in the book where you bring her spirit back and have a conversation with her. Did you use specific movies for reference, or her memoir?
I'm so ashamed to have to admit, if you read the acknowledgements at the end of the book, you'll realize that when my editor read that part he said "Mary Astor sounds just like you", so I got help from a woman who was helping me stylistically and once she did, it finally sounded like a woman who was aware that the style of the hats changed, she was aware of so many things men wouldn't be aware of. I can't take credit for that, it was Prudence Crowther.
I was not surprised when Woody Allen wrote a review of your book, because reading the book made me think so much of Purple Rose of Cairo, because you also in a way live inside the movies. You and Woody are both atheists, do you think in a way movies became your version of gods and a spiritual life?
(Laughs) I had never thought of it that way. I suppose I'm a second generation agnostic, I'm an atheist, but I suppose my mother was a doubter. I somehow never, ever believed. I gave God a chance when my sneakers in high school were stolen from my locker. I made a deal with him that if my sneakers came back I'd believe in him, but my sneakers never came back and I've been an atheist ever since.
The book is ready to be turned into a movie. Do you think there's a mother actress who would be able to play Mary Astor?
No I don't, there are very few actresses left, except Meryl Streep, who could portray anybody with a first rate mind, much less elegance. I don't go to movies as often as I used to, perhaps there are other actresses who can do it. Movies were my salvation when I was young because they allowed me to go into a world that wasn't around me.
Would the idea of an animated movie appeal to you?
It appeals to me, but unfortunately my style is not suitable for animation because I have a nervous, spastic style with lots of lines that change all the time. I'm glad you didn't notice but I have some difficulty keeping the faces the same all the time. For animation you have to have a smooth, hard line.
Given the political climate of the country, why do you think we should pay more attention to cartoonists and illustrators who in many ways are more honest and pithy than other journalists?
I think you should pay attention to my book, so that you don't have to think about what's going on in the world now. We all need to laugh more desperately now than we did a few months ago. I think one of the reasons we had those wonderful screwball comedies in the 1930s is because we had a Depression, and people wanted to laugh, they didn't want reality. These are very hard times because one wakes up thinking about what's happened to the country, and one goes to bed thinking about it. It's oppressive times, at least we on the seaborads who realized what Donald Trump was are really, very frightened people at the moment.
Mary Astor's Purple Diary is now on sale.