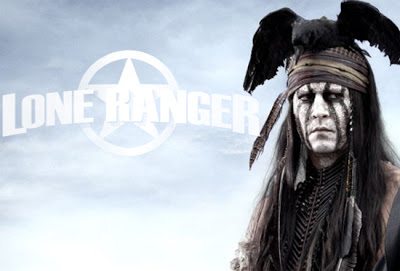 With The Lone Ranger hitting theaters this weekend, we see Johnny Depp in yet another eccentric role. Donning a feathered headdress and white makeup, Depp saddles up as Tonto, the Native American sidekick of The Lone Ranger (played by Armie Hammer).
Depp's career began back in 1984 with a small role in Wes Craven's A Nightmare on Elm Street. Over a 29-year career, the actor has accrued a Golden Globe, three Oscar nominations and a reputation for playing oddball characters. This is a look at some of our favorite Johnny Depp roles.
Edward Scissorhands
A year after he rejuvenated the comic-book movie genre with Batman, director Tim Burton crafted the deliciously original Edward Scissorhands. A quirky, gothic, romantic film, Edward Scissorhands was the touching tale of a naive laboratory creation named Edward, who was left unfinished by his creator. Depp conveys the gentle, blissfully unaware nature of Edward without saying more than 169 words. Simultaneously comedic and tragic, Depp's performance was an early indicator of his star potential.
[youtube]https://www.youtube.com/watch?v=UDOvMb6pSlo[/youtube]
Ed Wood
The next time Depp and Burton teamed up, they left the world of weird fiction and entered the world of weird fact. Ed Wood is the biopic of Edward D. Wood Jr., the worst director of all time. The ever-enthusiastic Wood is played by Depp, who delivers (in my opinion) the best performance of his career. Depp plays Wood as impossible to shake, no matter how negatively people reacted to his films. In his eyes, all movies were magical, and he just wanted to be part of it. Depp is contagiously exuberant throughout Ed Wood, infecting his fellow actors and the audience with whimsical admiration of cinema.
[youtube]https://www.youtube.com/watch?v=IJ7oLXg9zFg[/youtube]
Fear and Loathing in Las Vegas
Based on Hunter S. Thompson's autobiography of the same name, Fear and Loathing in Las Vegas is the drugged-out odyssey of Raoul Duke (based on Thompson) and his attorney Dr. Gonzo to Las Vegas. Depp is completely warped as Duke, embracing the physicality of tripping on hallucinogens. Exaggeratedly paranoid and with a cigarette always clamped between his teeth, Depp makes himself practically into a cartoon character, like Elmer Fudd trying to sneak up on Bugs Bunny. While the psychedelic nature of the film may leave many exhausted and even bored, there's little denying Depp is exceptional.
[youtube]https://www.youtube.com/watch?v=uOmtVFQ3WF8[/youtube]
Pirates of the Caribbean: The Curse of the Black Pearl
Though he seemed to just be going through the motions in the four sequels, let us not forget how utterly charming Depp was the first time he played Captain Jack Sparrow. A captain without a ship, the incorrigible swashbuckler became an instant icon across the world. Depp brought a drunken physicality to the role but didn't allow us to see Jack as anything less than always in control. He may seem a bit far gone, but he is driven by a burning desire. This multi-faceted supporting character may have lost his flare in the sequels, but even upon repeat viewings of Curse of the Black Pearl, you see depth and charisma that is easy to enjoy.

[youtube]https://www.youtube.com/watch?v=SNkrfnWmYfM[/youtube]
Sweeney Todd: The Demon Barber of Fleet Street
One of Depp's earliest and most identifiable film roles was as Wade "Cry-Baby" Walker in the musical Cry-Baby. That time around, Depp didn't perform his own singing, taking some of the authenticity out of his performance. In 2007, Depp actually did provide his own vocals in Tim Burton's R-rated musical, Sweeney Todd. After being wrongly imprisoned, Sweeney Todd re-opens his barbershop in hopes of getting close to the man that separated him from his wife. After befriending baker Miss Lovett, the pair go about murdering Sweeney's customers and baking them into pies. Depp is deeply intense as the wronged barber, but most importantly his singing is spot-on. He doesn't have a phenomenal voice, but he uses it to capture his character's despair perfectly.
[youtube]https://www.youtube.com/watch?v=TxoFi5Lie34[/youtube]
by Nick DeNitto