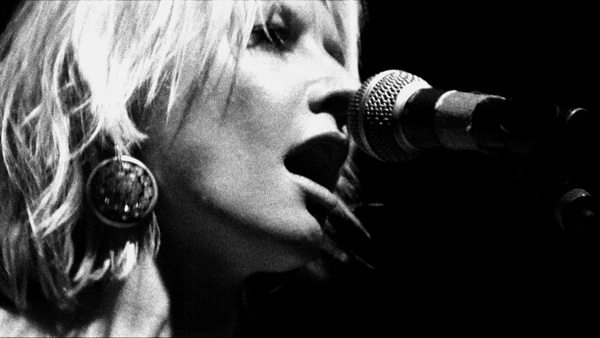 LA and the Sunset Strip for most conjure up images of loose, fast living and the real rock'n'roll lifestyle. This is what Rebekah Starr and her band are in search of in their new independent, fly-on-the-wall documentary film My Way.
Rebekah and her husband Mike have grown up in the small town of Kittaning, Pennsylvania all their lives. Rebekah's sole reason for getting into music and playing guitar was Mike - that was the way she won his heart and eventually his hand in marriage. The two of them, along with their two tambourine-playing Estonian friends Tamea and Annikah, make up the best if not only band regularly playing around the traps in Kittaning, The Rebekah Starr Band. Losing her job, getting sick of playing to old men in half empty rooms, and dreaming of her life that once was in her old all-girl New York band The Skinny, Rebekah decides to try and make it to LA to record the first ever Rebekah Starr Band music video for her hit song "My Way".
What follows is a turbulent road trip full of love, lust, drinking and debauchery. This is mostly a good film filled with free spirit and adventure. Having lost her job due to supposed sexism and anti-feminist ideals within her family's company Rebekah Starr is definitely in a "F*ck you I'll do what I want" phase of her life. This is clearly present in the fact she willfully leaves her doting husband behind, and becomes more apparent in the way she treats Annikah once they arrive in LA. That being said there's something very admirable about someone doing what they love with such fierce determination and reckless abandon.
Sadly neither Rebekah or Annikah come off as very likable. A theme which comes to the forefront very quickly is that of "look at us we're 2 crazy hot blonde's out on the road on our own aren't we so cool and crazy". If the girls were likable and the music good this would be OK, but neither of those things are true. Rebekah admits from the start the only reason she got into music was because of Mike, and gives no solid insight into her musical inspirations or ambitions other than she's angry about being treated in a sexist manner by men. I wish it weren't true but this happens to all girls at some point and they don't get all fired up, leave their husband and make a video about it.
Her lack of musical inspiration is also present in her songs which though catchy are kind of tedious. Most of the lyrics are about being blonde and awesome and getting her own way, for example from the title track "My Way":
"Don't like to wait in line
Don't like to spend a dime
I always drink for free
It's my philosophy
And when I'm driving fast
Like when I'm late for class
It's not my fault you see
Just take a look at me"
Then you have Annikah who is exotic and fun, but who simply jumps around playing the tambourine. The only one with any real musical talent and industry kudos is Holly, who lives in LA and makes everything happen for Rebekah.
This is an interesting and entertaining film. It has all the elements of adventure, sex, fun and music, and shows how focusing on your hopes and dreams can eventually become a reality if you try hard enough. If the heroines had a little more depth and credibility it would have been a great film, but alas they do not. And not even cameos by the likes of Ron Jeremy, Rick Rockett (Poison) and Steven Adler (ex-Guns'n'Roses) can save it.