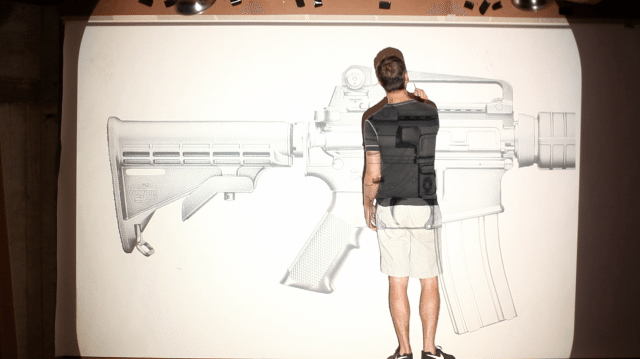 The midterm elections on November 4, 2014 marked history when 60% of voters in Washington State passed Initiative 594, a measure that requires background criminal checks on all firearm sales and transfers in the state, including those sold at gun shows and online. The measure was launched after the Newtown, Connecticut mass murders of 2012, which left 26 people dead. The passing of Initiative 594 was groundbreaking because during the last two decades, when gun control has been one of the key issues in most electoral campaigns, the endless two-party division in Congress has made it impossible for them to reach any compromises. This victory of the people of Washington State makes it obvious that this is a conversation that should go beyond the limitations of politics.
This conversation is also at the center of No Control, a documentary feature by Jessica Solce, making its world premiere at the 2014 DOC NYC Film Festival. The film focuses on both sides of the gun issue by highlighting the work of artist Greg Bokor, and gun activist Cody Wilson. In 2013, Bokor came up to Solce with the idea of an interactive project called Erase, which would feature a 20x7 feet pencil drawing of an AR-15 assault rifle, which people would wipe away using erasers stamped with the names of victims of school shootings. "Greg's piece was a very beautiful happening," explained Solce. "When it was actually in the space and people started encountering it, it was kind of breathtaking, to see how the majority of the people walking in connected with it." This very interaction between the art and the beholders might very well sum up the essence of the film she made about it.
No Control is the rare nonfiction film that aims for utter and complete objectivity. While it's true that from the moment of its inception any work of art instantly becomes subjective, Solce somehow removes herself from the equation and allows her subjects to make their own cases. "I wanted to learn," she added, when I asked her about why even make this film in the first place. A native Texan, despite her parents being out-of-staters, Solce added how in her youth she had learned how to fire guns and was aware that they were a part of the culture. "Guns tend to be a very cultural tool, it seems as if the majority of people I've encountered [while promoting the film] have access to or grew up in a town with gun culture, or they've never touched a gun in their lives and they're just interested for various reasons," she continued. When I asked about the aiding role of firearms in creating the concept of masculinity, she cleverly told me, "Oh, that's worthy of another documentary within itself."
Part of what makes No Control so fascinating is how when Solce turns her attention towards Wilson, the camera seems to pick up on the same beauty he sees in firearms. They're aesthetically pleasing, almost as beautiful as Bokor's installation. Despite being named one of the most dangerous people in the world by Wired Magazine, Wilson is an entrepreneur who could very well represent a version of the "American Dream". A crypto-anarchist, free market endorser and bitcoin advocate, Wilson gained prominence when his company published the plans for the Liberator, a printable single shot handgun that could be obtained for free.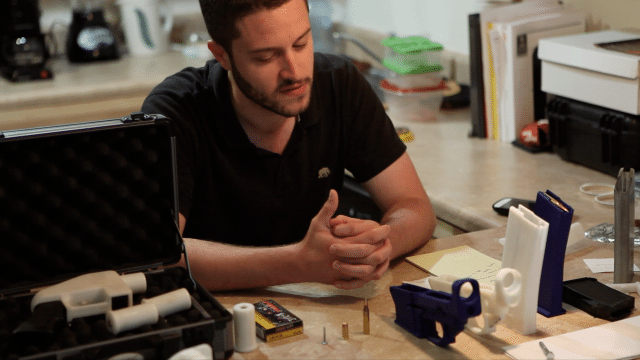 I confessed to Jessica that upon first hearing his plea I wanted to slap Wilson, only to then find his case to be strangely compelling and even more surprisingly, I found it to make sense in myriad ways. "It is possible that the film encourages one way or the other, that someone may connect to Greg or Cody...and that's the story, being free to connect to whoever you wish," she explained.
While this perspective might seem too nihilistic for some, it's certainly a bold, empowering move from someone making their directorial debut. At a time when films and mass media are steering us towards specific points of view, Solce's film giving us the ability to choose for ourselves is, well, quite liberating. "You can't restrict art, once you start restricting art in any form, then you're restricting speech. In that way I feel like everybody should be able to do anything and then it's the choice of the viewer to pay for it, it's economics," she explained eloquently.  "If someone were to make something completely distasteful and horrible, then let the market show them that."
Solce understands that the very essence of art lies in the conversation it sparks. "I think this conversation is important because it is one that is going to most likely be in our society forever," she said. Solce's theatrical direction resume includes a production of Arthur Miller's The Crucible, which I suggested resembles the dramatic structure of her film, in how two sides try to win the jury over using smart arguments, while trying to demonize their opponents. "I would love to see this film have a life and provoke conversations with all kinds of people, and if talking isn't enough for them, then by all means they should act, no matter what side they're on," she explained.
I wondered if anyone at any point had suggested she didn't make the film, to which she replied, "a few people thought [gun control] was a leviathan of a topic and I think if this wasn't my first film I would've been like 'oh no, I'm not going there'...but I was naive and excited enough that I didn't have any preconceptions about what this documentary needed to be." The refreshing result might very well be the most important film about gun control made so far.
For more about No Control, including future screenings visit the official website. To support the film's Kickstarter campaign click here.