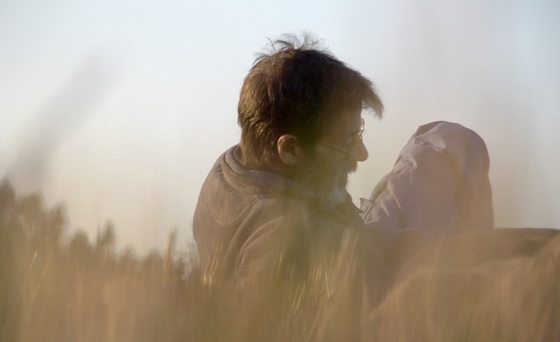 "I apologize if my notes are confusing" says Joaquim Pinto at the beginning of "What Now? Remind Me", an endlessly touching documentary feature in which he chronicles a year in his life while he undergoes treatment for HIV and Hepatitis C. Traveling from his small farm in the Portuguese country (which he shares with his partner Nuno Leonel) to Spain where he receives trial drugs, Pinto takes his camera with him everywhere and records everything from confused monologues - which he even acknowledges he won't remember unless he shoots them - to car rides with Nuno, who at first refuses to appear in the film but changes his mind towards the end. Pinto's purpose is to capture his "constant effort to stay alive", which turns out to be devastating and life affirming.
Where the film could've had either too much self-pity or too much self-righteousness, Pinto looks beyond the confines of his disease to revel in what turns out to be a truly fascinating life. A man who has always been in love with the movies, he tells how he became enlightened after the sexual revolution meant he got to see films like "Emmanuelle" or "Deep Throat" in a theater. Going back in forth between anecdotal moments (lots of scenes involving his dogs) and introspective scenes in which he seems to dwell on existentialism, Pinto creates a unique film that feels like a less cryptic version of Chris Marker's "Sans Soleil".
During various sequences he relishes in finding the similarities and disparities between science and the divine; he becomes obsessed with an antique book from Spain which depicts the creation of the world in images and after wondering where his own beliefs stand (he accompanies Nuno to church on occasion) he accuses biologists of being people who only write banalities about god. If his philosophical dilemmas weren't interesting enough by themselves, we have to remember that Pinto is someone much more aware of his mortality than anyone else around him. On the subject of memory he confesses that looking back makes life seem even more fragile than it already is, making us realize that extreme experiences lead to extreme sensibilities.
By the end of the film, more than concentrating on the details of his medical life, we wish we could spend time just talking to Pinto about life (his theories about languages containing universes upon themselves are breathtaking) and taking in his profound knowledge and newfound love for the tiniest details. "What Now? Remind Me" is a celebration of life made to rejoice in its so very melancholic fugacity.