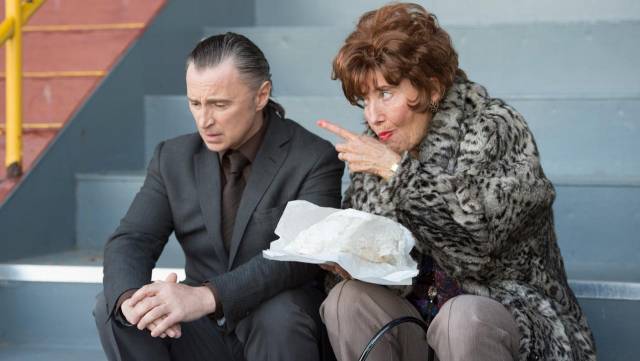 Robert Carlyle's directorial debut is a colorful, saturated black comedy that gives a sharp British ensemble some giddily unflattering characters to play with. Titular Barney (Carlyle) is a sad-sack Glasgow barber with no real goals, ambition or life. That's the way he likes it but, of course, it's all about to change. Barney also has a tendency towards the odd temper tantrum and, when he is unexpectedly demoted to the lesser barber chair after years of service, an ill-timed outburst makes him a suspect in the hunt for the "body parts" - a serial killer who mails the severed appendages of his victims to their families. His small life quickly starts spinning out of control and he must dig deep to keep it together.
The film finds much of its comedy in the arbitrarily dark and absurd occurrences that seem to be hidden in the corners of painfully ordinary life, and the stylized cinematography, colorful production design and retro pop soundtrack add to the heightened, almost cartoonish tone. As the bodies pile up, the frames become drenched in red and singular light sources. Carlyle may have learnt a thing or two about composing a bold shot from working with Danny Boyle, or he let (Game of Thrones veteran) cinematographer Fabian Wagner bring his strong eye to the party.
You expect actors-turned-directors to have good instincts with their cast. For his part, Carlyle assembles a great ensemble of underused British actors and lets them loose on some blissfully unsavory characters. Emma Thompson is the standout as Barney's rather grotesque, chain-smoking, unapologetic mother. She has sordid fun in a role that's about as far as possible from the buttoned up period dramas she made her name on. Donning a terrible wig, short skirts and garish make up, she revels in each grimy corner of her character. The film acknowledges the echoes of Sweeney Todd in its initial setup - being a tale of barbershops, murder and freezers filled with body parts - which just adds an additional layer to Thompson's presence, as she riffs on Mrs. Lovett which she played a Lincoln Center production of the Sondheim musical.
Brendon Gleeson is also great in his small part as a gruff, increasingly neurotic policeman, warring with Ashley Jensen's ferocious police chief, with a massive chip on her shoulder, to be the first to solve the biggest serial killer case of their careers. Their rising comic intensity pays off in an hilarious, ridiculous and bloody anti-climax. Barney Thomson is a fairly by-the-numbers genre outing, but it is polished, funny and suitably grim. It's also a visually bold debut from a director who will hopefully keep making films and bringing great, underused British actors along for the ride.