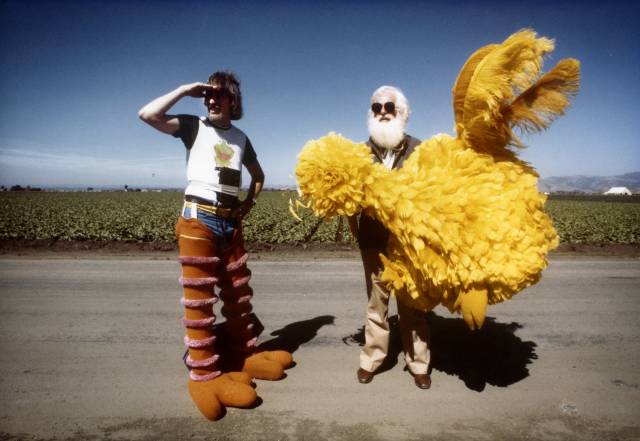 Big Bird, the six foot tall, sunshine-yellow plumed creature, is perhaps the unofficial mascot and most recognizable entity on Sesame Street, but who is the man inside the feathered suit? David LaMattina and Chad N. Walker's straightforward documentary I Am Big Bird: The Caroll Spinney Story explores just that, giving a face to man behind the bird since its inception.
The film centers on the affable and humble Spinney with a snowy pageboy haircut, 78-years old at the time of filming. His love of puppets hearkens back to childhood, encouraged by his artist mother but disapproved of by his stern father. The film spans his life chronologically from his time in the Air Force and his career pursuits, while strings swell arbitrarily and early on, as part of the film's maudlin score. His fate was sealed when he met Jim Henson in 1969 at a puppetry festival in Las Vegas, where Henson invited Spinney to New York after witnessing the future Big Bird perform under pressure. Henson, who tragically passed away at an early age, remains a shadow throughout the film, bestowed much praise and reverence at every step.
It is difficult to imagine Sesame Street without Big Bird, but in its early years he was a second fiddle, more goofy than naïve. While puppeteers typically work together, moving different limbs of the same puppet, Big Bird is operated alone, as is Oscar the Grouch, also played by Spinney. Feeling out of place, he nearly quit. To everyone's benefit he added bits of his own personality, his introspection, and loneliness, transforming Big Bird into the character known today — a kid adrift, trapped in a towering body. Big Bird is a more thoughtful character, unlike the frenzied Elmo, whose screen time, the film notes, has steadily risen to meet the changing demands of younger audiences, pushing Big Bird into the background.
A bulk of the film consists of interviews with Spinney's second wife, Debra, a lovely woman whose decision to video every outing and cherished moment certainly aided the documentarians. Her exuberance drives home the film's tone, lighthearted, innocuous. The films also lightly and vaguely touches on the antagonism of children's television writer Jon Stone, who clashed with Spinney during their work on Sesame Street.
The physical demands of the role have not yet stopped Spinney as he has grown older. He must raise his hand high above his own head to maneuver Big Bird's own from inside the heat-trapping suit, shut out from the world. Outfitted in what Spinney refers to as an electronic bra, a bulky monitor allows him the audience's viewpoint, meaning he must remember to operate in reverse, as a mirror image. Though an heir (Matt Vogel) has been groomed with his say-so, Spinney has no intention of stopping after 45 years as the cherished character, warming the hearts of children and parents alike.